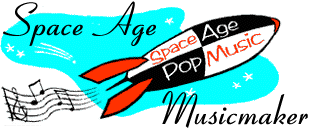 Norrie Paramor
---
Born London, England, 1913
Died 9 Sept 1979
---
Norrie Paramor was a major figure in both easy-listening and early British rock-n-roll. After working as a pianist and arranger through the 1930s and 1940s, Paramor was appointed recording director of the UK EMI Columbia label in 1952. His earliest hits as a producer were with trumpeter Eddie Calvert, who had a million seller in 1953 with "O Mein Papa," and who had the most successful UK cover of "Cherry Pink and Apple Blossom White" in 1955.
Paramor jumped on the lush strings bandwagon in the mid-1950s, producing a series of albums such as "Amor, Amor" and "Jet Flight." Paramor's are among the easiest of all easy-listening albums--he maintains a smooth surface of sound from cut to cut, disturbed by the barest of accents. "In London In Love," his most successful album, added the haunting touch of an uncredited soprano singing brief snatches of the lyrics or just wordless vocalese. Although the album's liner notes stated that "Mr. Paramor refuses to disclose the identity of the singer," his follow-up album, "With Love from London," put it right on the cover: "Featuring the voice of Patricia Clark." Clark's nearly wordless vocals became the signature of Paramor's albums, and the two London LPs are among the most fondly-remembered albums of the space age pop era--they're long overdue for reissue.
Paramor produced the first British rock-n-roll single, "Teach You to Rock," by Tony Crombie and his Rockets. Although Paramor clearly preferred mainstream pop to rock, he had a hard time avoiding it. He brought out the first recordings by teen idol Cliff Richard, and produced a long string of EPs and LPs by Richard' backing band, The Shadows. He contributed a number of The Shadows' best songs, including "Frightened City." He also wrote soundtracks for several British films, including "Expresso Bongo." He produced many of the British pop stars of the early 1960s, such as Frank Ifield, Billy Fury, and Helen Shapiro, England's answer to Brenda Lee.
After leaving EMI in the late 1960s, Paramor continued to record occasional easy-listening string albums.
News: "In London, In Love" is now back in print!
After a long wait, "In London, In Love" is now available, along with "Autumn," on CD, available exclusively (as far as I can tell) from Collector's Choice Music. You can find it directly by clicking on the following link:
In London, In Love/Autumn
---
Recordings
In London, In Love, Capitol T-10025
London After Dark, Capitol T-10052
New York Impressions, Capitol T-10063
The Zodiac Suite, Capitol T-10073
My Fair Lady, Capitol T-10100
Just We Two, Capitol T-1011
Moods, Capitol T-10130
Jet Flight, Capitol T-10190
Autumn, Capitol T-10212
Amor, Amor!, Capitol T-10238
Strings! Staged for Stereo!, Capitol STAC-1639
In London, In Love Again, Capitol ST-2071
Warm and Willing, Capitol ST-2357
In Tokyo, In Love, Capitol ST-2526
The Wonderful Waltz, Capitol ST-10173
Love at First Sight, Polydor 543 123
Silver Serenade (14 Silver Hits), Total TRC 1039
---
Search for Records and CDs
New CDs
Used Records and CDs

<! -- here GEMM code starts>

Search www.gemm.com for old recordings by Norrie Paramor.
---
S p a c e A g e P o p M u s i c
Home · Listener's Guide · The Songs · Who's Who · Liner Notes · Selected Tracks · What's New · Search
© spaceagepop 2015. All rights reserved.