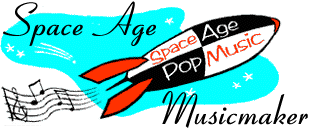 Perez Prado
---
Born Damaso Perez Prado, 11 December 1916, Matanzas, Cuba
Died 14 Sept 1989, Mexico City, Mexico
---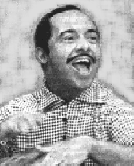 "The Mambo King." Prado grew up in Cuba and worked with casino orchestras in Havana for most of the 1940s. In 1948, he moved to Mexico to form his own band and record for RCA. He quickly specialized in mambos, an upbeat adaptation of the Cuban rhumba. Prado's mambos stood out among the competition, with their fiery brass riffs and strong sax counterpoints, and most of all, Prado's trademark grunts. In 1950, arranger Sonny Burke heard "Que Rico Mambo" while on vacation in Mexico and recorded in back in the U.S. as "Mambo Jambo." The single was a hit and Prado decided to profit himself from the success and tour the U.S. His appearances in 1951 were sell-outs and he began recording U.S. releases for RCA.
In 1954, a number of novelty mambos, including "Papa Loves to Mambo" were recorded by mainstream artists, spurring a wave of mambo dancing and recording. Prado was clearly the leader in this movement, but his greatest success came a year later. He recorded a French song he had first covered in 1951 on the soundtrack of the movie, "Underwater," and when it attracted some attention, RCA released it as a single. "Cherry Pink and Apple Blossom White" reached #1 in the Top 40 charts and held the spot for 10 weeks. He followed this with Top 20 singles of "Anna" and "Skokiaan," but fell out of the charts for the next two years, although his albums continued to sell well.
For all his cheerful demeanor on stage, Prado was a ruthless taskmaster as a bandleader. Trombonist Milt Bernhart recalled an incident during the recording of "Voodoo Suite," a collaboration with arranger Shorty Rogers:
One of the movements involved a supposed street-fight in Havana - Carlos Vidal (conga drums) and another Cuban percussionist were to play the roles of the two participants in the rumble. After running the music down once or twice, one of them decided to really get into the spirit of the thing - he stripped down to his shorts!

Now, we began to record it. In the middle of their chanting and howling, they forgot where they were and really started to grapple. They were mad and they were wrestling. Half the band fell completely apart. The "take" stopped cold, and I fell on the floor convulsed. Prado seemed to be offended by our laughter and was glaring at me - and possibly Maynard Ferguson - we were in hysterics! The trombone player next to me, who was a regular Prado member, sat staring straight ahead, he didn't get it or he was afraid of Prado's anger.

I learned later that Prado fired him - he hadn't done anything.
In 1958, his own song, "Patricia," reached #1, and was later featured in the "scandalous" strip scene in Fellini's film, "La Dolce Vita." His last big hits in the early 1960s were "Guaglione" and "Patricia Twist."
After 1963, RCA stopped releasing Prado in the U.S. market. He returned to Mexico and continued to record and perform in Latin American countries until he retired in the early 1970s. Prado's brother, Panteleon Perez Prado, who moved to Europe in 1956, also ran a mambo band and was so infuriated with his younger brother's success that he even tried to sue in court to be declared as the superior bandleader.
---
Recordings
Dance rhythms, Diplomat 2243
Mambo Happy, RCA Camden CAL 409
Mambo Mania, RCA Victor LPM 1075
Mambos By The King, RCA Victor LPM 1196
Havana, 3 a.m., RCA Victor LPM 1257
Latin Satin, RCA Victor LPM 1459
Prez, RCA Victor LPM 1556
Dilo (Ugh!), RCA Victor LPM 1883
Pops and Prado, RCA Victor LSP 2028
Big hits by Prado, RCA Victor LPM 2104
A Touch of Tabasco (with Rosemary Clooney), RCA Victor LSP 2133
Rockambo, RCA Victor LPM 2308
La Chunga, RCA Victor LSP 2379
Exotic Suite of the Americas, RCA Victor LSP 2571
Our Man in Latin America, RCA Victor LSP 2610
Dance Latino, RCA Victor LSP 3330
Great Mambos, Bell BLP 12
Latin Dance Party, Promenade 2204
Perez Prado's Dancy Party, Spinorama S-78
Beautifully Yours, Srpingboard SPB 4069
And His Famous Latin Orchestra, Halo 50323
Lights! Action! Prado!, United Artists UAS-6394
Dance Date with Perez Prado, Polydor CD 314-523-421-2
---
Search for Records and CDs
New CDs
Used Records and CDs


Search GEMM for old recordings by Perez Prado.
---
S p a c e A g e P o p M u s i c
Home · Listener's Guide · The Songs · Who's Who · Liner Notes · Selected Tracks · What's New · Search
© spaceagepop 2015. All rights reserved.