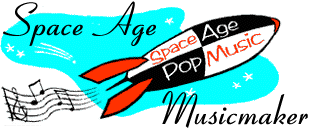 George Feyer
---
Born 27 October 1908, Budapest, Hungary
Died 21 October 2001, New York City, New York
---
George Feyer is best known as one of the archetypal cocktail pianists of the Manhattan nightclub scene. His apparently bottomless repertoire, light and appealing piano style, and charming cosmopolitan personality made him a staple at the Hotel Stanhope's lounge for many years. He recorded a number of albums of Broadway and continental standards over the years, most notably a string of "Echoes of ..." albums for Vox in the mid-1950s.
Feyer was a classically-trained pianist--trained in the toughest "old world" way. His mother tied his legs to the piano bench to force him to practice. Despite this negative reinforcement, he became a proficient student, and attended the Franz Liszt Academy of Music in Budapest, where he studied alongside Georg Solti, who would become a world-famous conductor. He went on to the Budapest Conservatory, where he studied with the likes of Ernst von Dohanyi and Zoltan Kodaly.
Unlike Maestro Solti, however, after graduation Feyer didn't head for the concert hall. Instead, one of his first jobs was as the accompanist to silent movies. He and his partner, a drummer, began getting jobs on the side as a combo, and before long, they were touring some of the best hotels and clubs in Europe.
Feyer returned to Hungary when World War Two broke out. After Germany established a puppet regime in Hungary, Feyer was put into a forced labor brigade. After being moved to various factories in Germany, he ended up in Bergen-Belsen when it was liberated by the Allies. He returned again to Hungary and married his first wife, but they soon left for Switzerland when the Soviets began setting up their own Communist puppets.
They spent three years in Switzerland, then emigrated to the U.S. in 1951, joining Feyer's brother in New York. It didn't take long for Feyer to break into the music business in New York--he was appearing at Gogi's within a few months, and had a steady series of gigs at clubs such as Delmonico's, before settling into a 13 year stint at the Hotel Carlyle in 1955.
Feyer and the Carlyle became closely linked in the public's eye. The hotel set up a separate piano lounge for him, then hired a Hungarian decorator to do it up in Feyer's native country's style. Audiences loved his clever commentaries, nimble playing, and occasional cabaret-style singing. His success led to a contract with Vox Records, which released at least ten albums featuring Feyer and his combo. Unlike his live performances, though, these are pleasant but unexciting, lacking perhaps their variety and spontaneity.
Feyer never claimed to be a particularly original stylist. He once wrote,
If there is any originality in my arrangements, it lies in the fact that they do not try to be original. They are based on the eternal laws of music, which apply equally whether you play classical or popular, Mozart or Jerome Kern, Brahms or Johann Strauss.
Yet his musical style aside, there was something special about his performances. New York Times critic John S. Wilson wrote of him in 1980,
He literally plays his audience, which invariably includes longtime fans, fitting in a remark to a table on the left, acknowledgement of a request from a far corner, drawing his listeners in with an anecdote, a recollection, or an Ogden Nash poem, and creating an ambience that is informal but delicately controlled.
Feyer's departure from the Carlyle is something of a legend in New York cabaret circles. He left for his usual summer vacation on Nantucket in August 1968. The Carlyle hired Bobby Short as a fill-in. When Feyer came back, the Carlyle's new management curtly told him his services were no longer needed. "I took the most expensive vacation of them all," he later commented. Bobby Short is still playing at the Carlyle today.

Feyer bounced back quickly, moving to the Stanhope's lounge for twelve years, then spending his last few years of active performing at the Hideaway Room in the famous Waldorf-Astoria Hotel.

Feyer retired in 1982 after his first wife's death, though he appeared at private parties and rare hotel engagements, mostly as favors to friends. For many years, up to just weeks before his death, he put on a weekly show to entertain patients at the Memorial Sloan-Kettering Cancer Center.
---
Recordings
An Evening at the Cafe Carlyle with George Feyer, Cadence CLP-3051/CLP-25051
Echoes of Spain, Vox VX25070
Echoes of Paris, Vox VX25200
Echoes of Vienna, Vox VX25250
Heavenly Echoes of My Fair Lady, Vox VX25340
Echoes of Broadway, Vox VX25350
Echoes of Latin America, Vox VX25370
Echoes of Hollywood, Vox VX25400
More Echoes of Paris, Vox VX25430
Echoes of Budapest, Vox VX25450
Echoes of Italy, Vox VX25620
Memories of Viennese Operettas, RCA Victor LSP1862
Memories of Popular Operas, RCA Victor LSP1926
Music for a Mellow Mood, RCA Record Club Exclusive RCACSP119
Today's Hits, Tomorrow's Memories, RCA Victor LSP2051
Echoes of Mr Fair Lady, Decca DL74041
I Still Like to Play French Songs, Decca DL74333
But Oh! Those Italian Melodies (I Still Like to Play French Songs the Best), Decca DL74411
Latin Songs Everybody Knows, Decca DL74420
Golden Waltzes Everybody Knows, Decca DL74455
Nightcap with George Feyer, Decca DL74625
Piano Magic: Hollywood, Decca DL74647
New Echoes of Paris, Decca DL74808
Echoes of Love, Decca DL74858
Echoes of Romance, Decca DL74902
Echoes of Childhood, Decca DL74907
George Feyer Plays Jerome Kern, Omega OVC-6015 (reissued as The Essential Jerome Kern)
George Feyer Plays Cole Porter, Omega OVC-6014 (reissued as The Essential Cole Porter)
---
Search for Records and CDs
New CDs
---
S p a c e A g e P o p M u s i c
Home · Listener's Guide · The Songs · Who's Who · Liner Notes · Selected Tracks · What's New · Search
© spaceagepop 2015. All rights reserved.