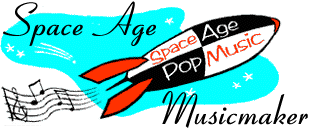 Henry Jerome
---
The "Brazen Brass" man. Jerome started as a bandleader in high school, and went to work full-time with a cadre of his classmates (including future Federal Reserve chairman Alan Greenspan) after graduation. From the mid-1930s through the end of the 1940s, Jerome ran the band in some form continuously, working steamships, hotels, and circuits. In its various guises, the Jerome band was a "sweet" band, specializing in light ballads and moderate tempos.
After breaking up the band, Jerome went into record producing, and ended up forming a new studio band to release a series of LPs for Decca under the moniker of "Brazen Brass." While Jerome was inspired by the success of Enoch Light's "Persuasive Percussion" album and sound, he deserves credit at least for dumping the sweet sound for something bold, splashy, and, well, brazen. The trademark "brazen" sound was enhanced through stereo by recording an equal number of trumpets on each channel, muted horns on the right and open horns on the left. According to Jerome, the technique was "To have my open brass section on left speaker talk musically to the muted brass section on the right speaker in musical phrases and be able to reverse them which was unheard of in those days and was one of the reasons for its tremendous sale--Worldwide #1 (4 of them in the top 10 at the same time)." Jerome produced and conducted nine Brazen Brass albums for Decca, as well as several more conventional sweet albums, until he left to become an A&R man for Coral in 1959. He released one more "brazen" style album in the late 1960s, for United Artists.
---
Recordings
Memories of Hal Kemp, Roulette R-25007
Hello Nice People, Roulette R-25056
Designed For Dancing, MGM Lion-E70004
Designed For Dancing Vol. 2, MGM Lion-E70016
Brazen Brass, Decca DL-4056
Brazen Brass Plays Songs Everybody Knows, Decca DL-4106
Brazen Brass Brings Back the Bands, Decca DL-4125
Brazen Brass Features Saxes, Decca DL-4127
Brazen Brass Zings the Strings, Decca DL-4187
Brazen Brass Goes Hollywood, Decca DL-4205
Brazen Brass Goes Latin!, Decca DL-4226
Strings in Dixieland, Decca DL-4307
Brazen Brass-New Sounds In Folk Music, Decca DL-4344
Vocal Velvet, Decca DL-4440
That New Country Feeling, Decca DL-4676
Henry's Trumpets, United Artists UA 6620
American Gold, United Artists UXS 71
---
Search for Records and CDs
New CDs
Used Records and CDs


Search GEMM for old recordings by Henry Jerome.
---
S p a c e A g e P o p M u s i c
Home · Listener's Guide · The Songs · Who's Who · Liner Notes · Selected Tracks · What's New · Search
© spaceagepop 2015. All rights reserved.