Born Jo Ann Zering 3 September 1939, Bakersfield, California
---
Jo Ann Castle is one of those amazing women who make the rest of us wonder what the heck we have to whine about. Introduced to show biz at the age of 12, she's been through several solo careers, two bouts with the Lawrence Welk "family," three marriages, a change of instruments, and more encounters with other top scoring events on the "Social Readjustment Rating Scale than three or four ordinary lives put together.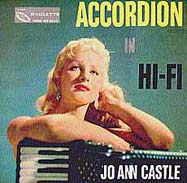 Perhaps that explains a little of her piano style. Her press releases call it a combination of "the veracity of Jerry Lee Lewis and the flamboyance of Liberace," but TV Guide more accurately quipped that, "Jo Ann Castle doesn't tickle the Ivories, she hammers them—as if she is building the piano instead of playing it."
Castle started performing at the age of three, and by her early teens, was appearing at shows and clubs south of Los Angeles, playing the accordion and piano and singing. Something of a blonde bombshell herself in the age of Marilyn Monroe and Jayne Mansfield, she was soon getting spots on Hollywood radio and TV shows. She played rooms at the Dunes and the Fremont Hotel in Las Vegas before she was old enough to order a drink, and recorded her first album, for Roulette Records, which includes a smoking cover of "Flight of the Bumblebee," before she turned 19.
Welk heard the album and invited her to appear on his television show, but with two accordion players on the show already (himself and Myron Floren), he requested Castle to play a honky-tonk piano number. Never one to ignore the ratings, Welk noticed Castle's popularity with the male viewers, and decided to ease her into the spot occupied by Big Tiny Little. He announced the move with great fanfare by inviting Castle to appear on her 20th birthday and then surprising her with a cake and the contract offer.
For the next 10 years, Castle pounded her way through hundreds of shows and hundreds of corny tunes. "I told Lawrence I had 300 numbers in my library, but I really only had three, so I had to work like crazy to expand my repertoire," she later remembered. She conformed to the same rigid rules as the rest of the Welk corps, such a prohibition against pants for women and appearing behind a barrel when her pregnancy grew too big to hide under a skirt. Even the steady income that attracted and kept most of Welk's musicians wasn't enough, though, and she decided in 1970 to leave the show.
"I'd been with him for nearly 10 years and I was becoming frustrated and stale. I needed to break out of the mold, and I knew that once Lawrence typecast you, that was it," she told an interviewer. Unfortunately, her popularity couldn't overcome the barrage of crises that came crashing in on her over the next few years.
Once divorced and raising a daughter with cerebral palsy, Castle had married again in 1967 and quickly had two more children. But the married soured not long after she left Welk, and "As a result, my career went to hell in a handbasket," she recalled. The Silent Majority that made up her audience hunkered down for the seventies, bookings became scarce. Soon she was grateful to be playing to boozers and losers in a Vegas cocktail bar. She lost her first daughter, divorced, married again, discovered her first husband was abusive, lost her house, took to drinking and eating, and within a few years was up to 300 pounds and sleeping on her sister's couch. She moved her family to Arkansas and spent the next few years just getting by.
Finally, in 1986, she decided to rebuild her career. She cut her weight in half, dumped her husband, and started getting a few gigs as a singer as well as a piano player. Randy Wood signed her to his post-Dot label, Ranwood, and she became a regular in an ever-increasing series of Welk alumni reunion shows around the country.
By the start of the 1990s, she was booking shows a year ahead, and was getting back to her prime. Lawrence Welk, Jr. invited her and the Lennon Sisters to jump on the glittering bandwagon of the new Vegas of the Midwest, Branson, Missouri, and from 1994 to early 2001, she was a headliner at the Lawrence Welk Champagne Theater there. She climbed back up the ladder of celebrity far enough to be chosen for a spot on the Arkansas Walk of Fame in Hot Springs.
She quit the Welk show in Branson in 2001 and has kept up a busy schedule of solo and duo appearances ever since, including hosting a PBS special on Liberace in 2002.
Most space age pop fans will find a little of Castle's honky-tonk piano goes a long ways. Her one accordion LP remains among the best sets of accordion wizardry to be set to vinyl, and her Hawaiian album is worth at least one listen for its sheer audacity in mixing two oil-and-water genres.
---
Recordings
Accordion in Hi-Fi, Roulette R-25022
Ragtime Piano Gal, Dot DLP 25249 (reissued on Ranwood R-2003 and R-8011)
12 Great Hits in Ragtime, Dot DLP-25433 (reissued on Ranwood R-8012)
The Ballad of Jed Clampett, Dot DLP-25511
Great Million Sellers, Dot DLP-25574 (reissued on Ranwood R-8013)
Hawaiian Ragtime, Dot DLP-25635 (reissued on Ranwood R-8043)
Queen of the Ragtime Piano, Dot DLP-25799 (reissued on Ranwood R-8070)
Ragtime Melodies, Hamilton 12126
Lawrence Welk's Ragtime Gal!, Pickwick 3072
Tiger Rag, Pickwick 3109
I'm Looking Over a Four Leaf Clover, Pickwick 3171
The Best of Jo Ann Castle, Ranwood R-8251
22 Ragtime Hits, Volume 1, Ranwood R-7007
22 Ragtime Hits, Volume 2, Ranwood R-7013
Those Were the Days, Ranwood R-8044
The Yellow Rose of Texas, Ranwood R-8063
The Best of Jo Ann Castle, Ranwood R-8251
Ragtime Favorites, Ranwood R-3014
---
Search for Records and CDs
New CDs
Used Records and CDs


Search GEMM for old recordings by Jo Ann Castle.
---
S p a c e A g e P o p M u s i c
Home · Listener's Guide · The Songs · Who's Who · Liner Notes · Selected Tracks · What's New · Search
© spaceagepop 2015. All rights reserved.