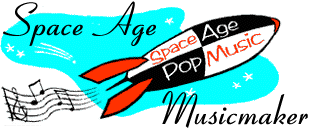 Tommy Gumina
---
Born 20 May 1931, Milwaukee, Wisconsin
---
One of the few brave souls to follow Art Van Damme's lead and explore the jazz accordion. Gumina is best remembered for his innovative collaborations with clarinetist Buddy DeFranco on their quartet recordings of the early 1960s. Gumina joined Harry James' scaled-down band in 1951 and toured with James for the next two years. He then struck out as a soloist, recording several albums for Decca. In 1960, he joined with DeFranco to form a quartet that played both standards and original compositions by each. Although the group put out albums on Decca and Mercury, they had little commercial success, so by 1964, the two headed for greener pastures: DeFranco to lead the New Glenn Miller Orchestra, and Gumina to work in design and marketing for a major accordion maker.
In 1968, Gumina founded Polytone Musical Instruments, which specializes in manufacturing and selling amplifiers designed for professional musicians. The name came from one of the albums he cut with DeFranco. As a side venture, he recorded and released several albums, including one with DeFranco and three with a Polytone endorser, jazz guitarist Joe Pass. Unfortunately, these albums are virtually impossible to find, most of the copies having gone straight from Gumina to a small circle of customers and friends.
---
Recordings
Hi-Fi Accordion, Decca DL 8404
The Virtuoso Accordion, Decca DL 78877
Pacific Standard (Swingin') Time, Decca DL 74031
Presenting the Buddy DeFranco-Tommy Gumina Quartet, Mercury SR 60685
Kaleidoscope, Mercury SR 60743
Polytones, Mercury SR 60833
The Girl from Ipanema, Mercury SR 60900
Mood Italiano. Decca DL-8630
Sound Project (Tommy Gumina/Joe Pass Trio), Polytone 1600-101
Polycolors (with Ron Eschete), Polytone LP
Autumn Leaves (with Joe Pass and Buddy DeFranco), Polytone LP
Love Walked In (with Joe Pass), Polytone LP
---
Search for Records and CDs
New CDs
Used Records and CDs


Search GEMM for old recordings by Tommy Gumina.
---
S p a c e A g e P o p M u s i c
Home · Listener's Guide · The Songs · Who's Who · Liner Notes · Selected Tracks · What's New · Search
© spaceagepop 2015. All rights reserved.