Born 9 April 1920, Norway, Michigan
Died 15 February 2010
---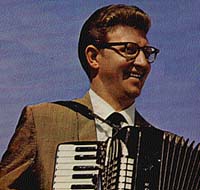 The hippest cat ever to swing an accordion, Art Van Damme dared go where no man had gone before: jazz accordion. He started taking accordion lessons at the age of nine, and moved on to classical studies after his family moved to Chicago, Illinois, in 1934. After leaving school. he played in a trio in local clubs under big band leader Ben Bernie hired him in 1941. He soon returned to Chicago, though, and continued to work the club circuit there throughout World War Two.
Van Damme was inspired by swing recordings, particularly Benny Goodman's, and in the late 1930s, he began experimenting, adapting Goodman solos to the accordion. Throughout his career, he would often be compared to Goodman, since the two were both classically trained, technical masters of their instruments, and versatile and creative jazz soloists. He formed a quintet with several of his studio colleagues, and recorded his first album, for the small label, Music Craft, in 1944.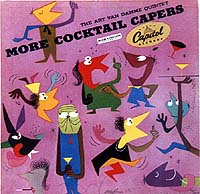 He joined the staff of NBC Radio in Chicago in 1945 and remained a studio musician for over 15 years, even after he became a recording artist in his own right. His early style fits into a small but at the time quite popular niche between the cocktail piano sound and the accordion/guitar/organ sound of the Three Suns. In fact, his earliest albums for Capitol and Columbia all had titles that made this connection explicit: "Cocktail Capers"; "Martini Time"; "Manhattan Time."
Despite liner notes that described this music as "background for badinage," these are excellent albums, if far more subdued that the bebop they shared the record bins with. Van Damme's introduction of the accordion as a featured jazz instrument was well-received critically, and in 1947, Downbeat magazine put his photo on the cover of one of their issues. He would go on to voted "Top Accordionist" in Downbeat's annual poll of jazz musicians for ten years in a row. Later, he was similarly recognized by Contemporary Keyboard magazine for five years in a row.
As time went on, Van Damme moved into more adventurous territory, closer to mainstream jazz. His later Columbia albums feature him at the lead of small, tight combos, and include a mix of standards and Van Damme's own slightly bebop-ish originals. "Accordion a la Mode" may be his best album, although "A Perfect Match," in which he pairs with the fine jazz guitarist Johnny Smith, is a favorite among fans of what's been called "light jazz."
Van Damme never had a problem finding a gig, and performed at clubs and hotels throughout Europe and the U.S. Over the course of over fifty years of performing, he traveled to Europe nearly 40 times and played everywhere from the Desert Inn in Las Vegas, to the Blue Note in New York, to Disney World in Florida. He also appeared on numerous television shows, from "The Tonight Show" to "The Dinah Shore Show." In the early 1950s, his quintet also recorded over 130 15-minute segments for NBC Radio. He claims that his performing kept him so busy he never needed to practice, and says that he probably played his accordion at home less than six hours total in all that time.
After leaving NBC Radio in 1960, Van Damme opened a music store and accordion studio in Chicago, but he continued to tour regularly. He left the recording mainstream when his contract with Columbia Records ran out in 1965, but was quickly signed by the German jazz label, MPS, and went on to record 16 albums for them. Since 1980, he has recorded less frequently, usually for small jazz labels, including an excellent album with the group Singers Unlimited on the Pausa. He gradually shifted his focus from clubs to accordion and jazz workshops, telling one interview that, "The audience is more attentive and listens more intensely."
Although a number of other accordionists ventured into jazz territory after Van Damme broke the trail, he remains the acknowledged master. As one reviewer recently wrote, he dispatches "Right-hand runs with a velocity and lightness of touch that defied the presumed limitations of the instrument," while at the same time, "Consistently emphasizing the lyric contours of a melodic phrase rather than the lightning technical flourishes that led up to it."
He eventually retired to Florida. He announced at his 75th birthday party that he intended to hang up his squeezebox for good, telling one interview that he felt like he'd played enough for one lifetime, but he continued to perform occasionally, appearing at clubs throughout the U.S. until as late as 2008.
---
Recordings (Courtesy of Cliff Bentz)
Cocktail Capers, Capitol T178
More Cocktail Capers, Capitol T300
More Cocktail Capers, Capitol H300 (10")
The Van Damme Sound, Columbia CL-544
Martini Time, Columbia CL-630
Martini Time, Columbia CL-6265 (10")
Manhattan Time, Columbia CL-801
Art Van Damme & Miss Frances Bergen, Columbia CL873
The Art Of Van Damme, Columbia CL-876
They're Playing Our Song, Columbia CL-1227
Everything's Coming Up Music, Columbia CL-1382/CS-8177
Accordion a la Mode, Columbia CL-1563/CS-8363
Art Van Damme Swings Sweetly, Columbia CL-1794/CS 8594
A Perfect Match (with Johnny Smith), Columbia CL-2013/CS-8813
House Party, Columbia CL-2585
Septet, Columbia CS-8992
Music For Lovers, Harmony (Columbia) HS 11239
Many Mood Of Art, BASF MC 25113
Star Spangled Rhythm, BASF MC 25157 (2 record set)
Art In The Black Forest, MPS (West Germany) MPS 15172
Art Van Damme & Four Brothers, MPS (West Germany) MPS 15236
Lullaby In Rhythm, MPS (West Germany) MPS 15 171
State Of Art, MPS (West Germany) 841 413 2
On The Road, MPS (West Germany) MPS 15235
Blue World, Pausa PR 7027
Keep Going, Pausa PR 7104
Squeezin' Art & Tender Flutes, Pausa PR 7126
Art Van Damme & Friends, Pausa PR 7151
The Art Of Van Damme, Phillips (Holland) B 07189
Pa Kungliga Djurgarden, Pi (Sweden), PLP 005
Lover Man, Pickwick SPC 3009
By Request, Sonic Arts Digital LS12
Ecstasy, SABA (West Germany) SB 15115 ST
In San Francisco, SABA (West Germany) SB 15073 ST
Art & Liza, Svenska Media AB (Sweden), SMTE 5003
Once Over Lightly/Manhattan Time, Collectables CD
Van Damme Sound/Martini Time, Collectables CD

with Jo Stafford


Once over Lightly, Columbia CL-968
A Perfect Match, Columbia CS-8813
---
Search for Records and CDs
New CDs
Used Records and CDs

<! -- here GEMM code starts>

Search GEMM for old recordings by Art Van Damme.
---
S p a c e A g e P o p M u s i c
Home · Listener's Guide · The Songs · Who's Who · Liner Notes · Selected Tracks · What's New · Search
© spaceagepop 2015. All rights reserved.