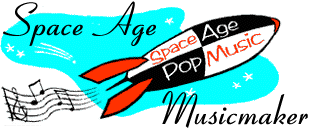 David Carroll
---
Born Nook Schreier, 15 October 1913, Chicago, Illinois
---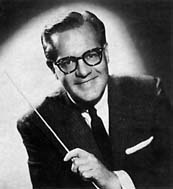 Musical director for Mercury from 1951 to the early 1960s. As studio arranger and conductor, Carroll played on numerous Top 40 hits, backing the Crew Cuts on their #1 hit, "Sh-Boom" and Rusty Draper on his "Shifting, Whispering Sands".
Under his own name, he recorded a string of LPs with the "dance" theme, mostly featuring his own compositions. He employed the cream of Chicago's session men on his albums, including percussionists Dick Schory and Bobby Christian, Earl Backus on guitar, and Mike Simpson, who also composed a number of innovative pieces for percussion on Carroll's albums, on reeds. Quincy Jones composed a couple of numbers for Carroll during his stint as a musical director for Mercury, and several cuts on Carroll's later LPs sound suspiciously like Jones arrangements. For some, the covers, featuring bold photos of sexy women in ecstatic poses, are more interesting than the music itself, but Carroll's Percussion Orientale and Percussion in Hi-Fi are worth seeking out.
Among the acts Carroll worked with in his later years with Mercury were the Smothers Brothers, and he eventually left Mercury and toured with them, leading their road show band.
---
Recordings
Dance Date with David Carroll, Mercury Wing MGW 12016
Contrasts, Mercury Wing MGW12146
Toe Tappers, Mercury MG 20064
Waltzes, Wine, & Candlelight, Mercury MG 20086
Waltzes with David Carroll and his Orchestra, Mercury MG 20121
Shimmering Strings, Mercury MG 20154
Percussion in Hi-Fi, Mercury MG 20166
Let's Dance, Mercury SR 60001/MG 20281
The Feathery Feeling, Mercury MG 20286
Dreams, Mercury MG 20301
Dance and Stay Young, Mercury SR 60027/MG 20351
Repercussion, Mercury MG 20389/SR 60029
Show Stoppers, Mercury MG 20411/SR 60060
Let's Dance Again, Mercury SR 60152
Solo Encores, Mercury MG 20503/SR 60180
Mexico and 11 other great hits, Mercury SR 60660
Let's Dance, Dance, Dance, Mercury SR 60649
Let's Dance to the Movie Themes, Mercury SR 60688
Let's Dance to Waltz Favorites, Mercury MG 20730
Today's Top Hits, Mercury SR 60786
Happy feet, Mercury MG 20846
Music Makes Me Want to Dance!, Mercury SR 60926/MG 20926
Golden Oldies for Today's Teens, Mercury SR 60935
House Party Discotheque with David Carroll, Mercury MG 20962
Latin Percussion, Mercury PPS 2000
Percussion Orientale, Mercury PPS 2002
Percussion Parisienne, Mercury PPS 2008
All the World Dances, Mercury PPS 6022
Hey, Listen Baby--Let's Dance, Mainstream S/6095
---
Search for Records and CDs
New CDs
Used Records and CDs


Search GEMM for old recordings by David Carroll.
---
S p a c e A g e P o p M u s i c
Home · Listener's Guide · The Songs · Who's Who · Liner Notes · Selected Tracks · What's New · Search
© spaceagepop 2015. All rights reserved.