---
Born 17 June 1931, New Haven, Connecticut
---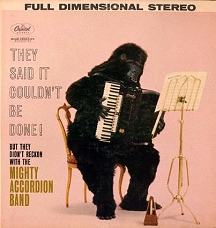 Dom Frontiere qualifies for mention on four counts:

As jazz accordionist and combo leader
As mastermind behind The Mighty Accordion Band
As composer of the exotica classic, "Pagan Festival"
As composer of numerous film and television scores

Frontiere grew up in a musical family, learning several instruments before adopting the accordion as his main focus. He proved a prodigy, and was travelling to New York for lessons with accordion virtuoso Joseph Biviano at 7 and performing solo at Carnegie Hall at the age of 12. From an early age, Frontiere's interest in music went beyond just performing, though, and he studied classical music, arranging, and composition through high school and after.

He joined Horace Heidt's big band in 1949, replacing accordion star Dick Contino (who later recorded for Mercury in the 1950s) and becoming lead arranger as well. He left Heidt in 1952 and moved to Hollywood, where he studied with Mario Castelnuovo-Tedesco at UCLA and with violinist and studio conductor Felix Slatkin. Frontiere was taken under the wing of Alfred Newman, Music Director at 20th Century-Fox studios, and his brother, film composer Lionel Newman, who soon had him working steadily on a variety of scoring jobs.

Frontiere also participated in heyday of the West Coast jazz, forming a sextet that included Jack Marshall on guitar. He recorded several albums for Liberty. Along with Art Van Damme and Johnny Hamlin, he ranks among the leading (and only) jazz accordionists.

Frontiere experimented with several novelties as diversions from his studio work. One was an album for Columbia, "Pagan Festival," that is now recalled fondly as one of the prime examples of "true" exotica. As its liner notes state, "Pagan Festival" is an "interpretation of ancient Inca rituals, superstitions, and the romance and mysteries of their colorful civilization." One suspects he ran Yma Sumac's albums for a few spins while conceiving on the pieces on this work, which feature such titles as "Temple of Suicide," "Jaguar God," and "Venus Girl."

A year or two after "Pagan Festival," Frontiere dived into the stereo spectacular wave, producing and arranging an album for Capitol that featured a band of twenty-some accordions. "They said it couldn't be done . . . The Mighty Accordion Band" showed a gorilla playing an accordion on the cover and included rousing renditions of such exotica standards as "Caravan."

Frontiere has concentrated on composing for films and television since the early 1960s. His scoring credits include such films as Hang 'Em High, Hammersmith Is Out, The Stunt Man, and what is probably Bob Hope's worst movie, Cancel My Reservation. He also composed the theme for the aliens-are-among-us television series, The Invaders.

Aside from all of the above, Frontiere is also known as the seventh husband of St. Louis (nee Los Angeles) Rams owner Georgia Frontiere (who has a second exotica credit of being the daughter of legendary singer-dancer-accordionist-radio hostess-recording artist-lunar explorer Lucia Pamela). Frontiere helped then-Georgia Rosenbloom, then-wife of Rams owner Carroll Rosenbloom (husband number 6) as an accompanist--first on the piano, then elsewhere. The two married in July 1980, but the romance faded after Dominic got in trouble for alleged ticket scalping at the 1980 Super Bowl. He served nine months in federal prison after pleading guilty to filing a false income tax return, and Georgia divorced him in 1988, moving on to another musician, Earle Weatherwax. Dominic moved to New Mexico and largely dropped out of sight after that.
---
Recordings
Dom Frontiere and his El Dorado, Liberty LJH 6002
Plays the Classics, Liberty LRP 3034
Mr. Accordion, Liberty LST 7008
Fabulous, Liberty LST 7015
Pagan Festival: An Exotic Love Ritual for Orchestra, Columbia CL1273
The Mighty Accordion Band, Capitol ST-1212
Love Eyes: the moods of romance, Columbia CS 8224
The Outer Limits, GNP Crescendo Records GNPD-8032
Soundtrack albums

Sign of the Gladiator, American International Records AIR 501
Billie, United Artists UAS-5131
Hang 'Em High, United Artists UAS-5179
Popi, United Artists UAS-5194
On Any Sunday, Bell 1206
Hammersmith is Out, Capitol SW-861, 1972
---
Search for Records and CDs
New CDs
Used Records and CDs


Search GEMM for old recordings by Dominic Frontiere.
---
S p a c e A g e P o p M u s i c
Home · Listener's Guide · The Songs · Who's Who · Liner Notes · Selected Tracks · What's New · Search
© spaceagepop 2015. All rights reserved.