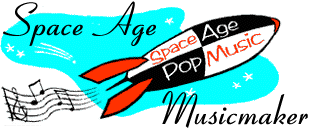 Bobby Hammack
---
Born 22 January 1922, Brookston, Texas
Died March 1990, Los Angeles, California
---
Bobby Hammack's version of Raymond Scott's "Powerhouse" is featured on several recent space age pop compilations, including Capitol's Ultra Lounge CD, Space Escapades and Rhino's Cocktail Mix Vol 2, Swingin' Singles. but most of his work is now forgotten and long out of print. Hammack studied music at the University of Texas at Austin, then served in the Army Air Corps during World War Two. After his discharge, he played with several bands before being hired by Red Nichols to play piano as one of his post-war Five Pennies. Hammack appeared with Nichols in a number of film shorts in the early 1950s. He then settled in Los Angeles to work in the music business there. A versatile keyboard player, he led the studio combo on "Jukebox Jury," a local television show that was picked up for national distribution as "The Peter Potter Show." Hammack also did a fair amount of freelance arranging, writing for Bob Crosby, Lawrence Welk, and Tony Osborne. He worked as musical director for ABC-Paramount Records from 1958 to 1963, during which he backed numerous ABC recording stars--including Dodie Stevens on her 1959 one-hit wonder, "Pink Shoe Laces." In the 1970s, Hammack toured as part of Billy Vaughn's band.
---
Recordings
Powerhouse, Liberty LRP-3016
Solid! South Pacific, Liberty LRP-3037/LST-7007
The Bobby Hammack Quintet, ABC Paramount ABC 130
Lovely Hula Hands, Coral CRL 757384
---
Search for Records and CDs
New CDs
Used Records and CDs


Search GEMM for old recordings by Bobby Hammack.
---
S p a c e A g e P o p M u s i c
Home · Listener's Guide · The Songs · Who's Who · Liner Notes · Selected Tracks · What's New · Search
© spaceagepop 2015. All rights reserved.