Born 11 May 1913, Glen Ridge, New Jersey
Died 20 April 2005, Burbank, California
---
Nicknamed by bandleader Jimmy Dorsey, "Tutti" Camarata was truly a jack of all musical trades--instrumentalist, orchestrator, arranger, composer, producer, and even record company executive.
Perhaps his drive had something to do with being born as the youngest in a family of eight children. He started studying the violin at the age of nine and switched to the trumpet at twelve. He managed not only to be heard above the noise of his siblings but to earn an invitation to attend the Juilliard School of Music in New York City. Working in stage and radio studio orchestras to pay the rent, he completed Juilliard and went on to study composition at Columbia University.
At 21, he was hired by Charlie Barnet, whose band was just starting to gain some fame. Known then as "Toots," he then worked briefly on Bing Crosby's radio show and as an arranger for bandleader Paul Whiteman when Jimmy Dorsey lured him in with the chance to work both as an arranger and as Dorsey's first-chair trumpet player.
Camarata's arrangements were one of the crucial ingredients in the Dorsey band's quick rise to success in 1939. The sponsor for Dorsey's radio spots wanted the last number of the show to showcase all of the band's top talents--singers Bob Eberle and Helen O'Connell, Dorsey and several other top instrumental soloists. Camarata came up with a three-part structure--a slow intro featuring Eberle, a mid-tempo section with O'Connell, and a finale with a full, upbeat swinging band. At least two of Dorsey's biggest hits--"Green Eyes" and "Maria Elena"--are direct results of this novelty.
In the early 1940s, Camarata quit Dorsey's band and went to work for Glen Gray as the lead arranger for his Casa Loma Orchestra, and then for Benny Goodman. His round of the best of the era's big bands came to an end in 1942, however, when he went to work as a civilian flight instructor for the U.S. Army Air Force, and later enlisted.
In 1944, Jack Kapp of Decca Records hired him as a musical director, and Camarata arranged and orchestrated for a number of Decca's biggest acts, including Crosby, Mary Martin, and Louis Armstrong. During this period, he arranged and conducted Billie Holiday's first sessions backed with a studio orchestra.
Within a year of hiring him, Kapp dispatched Camarata to the U.K., where he scored the film, "London Town," starring Sid Field, Kay Kendall, and a very young Petula Clark. The big band Camarata put together for this film later became the core of Ted Heath's band. He became close friends with Sir Edward Lewis, CEO of the U.K. arm of Decca, and together, the two founded London Records with the aim of distributing classical music from the U.K. in the U.S. market.
While London did become a major classical label, both in the U.S. and internationally, it also went on to become one of the U.K.'s most prominent record companies, with artists ranging from Edmundo Ros to the Rolling Stones. Camarata himself recorded for London as a classical performer, usually preparing original settings for full orchestra of pieces ranging from Erik Satie's solo piano works to chamber pieces by Bach and opera overtures and airas by Verdi, Puccine, and Rossini.
His stay in the U.K. was short, however, and he returned to the U.S. in 1950, where he rejoined Decca. He set up a studio big band, dubbed the Commanders, which had good sales with a series of albums such as Meet The Commanders. He also began working in television, arranging and conducting a number of the medium's more spectacular musical productions, including "Together With Music," which featured Mary Martin and Noel Coward.
These shows brought his name to the attention of Charles Hansen, an executive working with Walt Disney, who had been looking for someone to run a record label that could release soundtracks of his movies on the then-new LP format. Camarata moved to southern California, where he established and ran Disneyland Records for nearly twenty years. Soon after the label's formation, Disney stumbled into a huge popular hit with its "Mickey Mouse Club" television series. Camarata was soon busy producing singles by most of the show's featured performers, including the young Annette Funicello.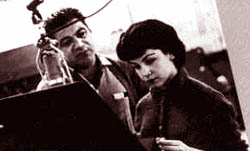 Funicello had a fairly thin voice and was something of a reluctant performer at first. But then Camarata experimented with a new echo effect device Disneyland Records had bought, and he was able to develop a richer, rounder sound that convinced Disney to push her as a full-fledged recording star.
Camarata was more than just a record maker for Disney. He played an important role in building up the studio's already well-known library of original music and provided some significant additions to the studio's casts. He introduced Sterling Holloway, who became the voice of Winnie the Pooh, and helped convince Louis Prima and Phil Harris to provide the voices for King Louie the Ape and Baloo the Bear in "The Jungle Book." He also expanded the label's repertoire to works outside the Disney oeuvre, including a series of Broadway musical songtrack albums he recorded with the Mike Sammes Singers. Over the course of his time with Disney, Camarata's recordings earned a total of eight Grammy Award nominations.
Even with his hectic schedule of work as an executive and musical director with Disney, Camarata managed to return on occasion to his big band roots. Of particular note are the two albums, Tutti's Trumpets and Tutti's Trombones. Trumpets dates from 1957 and features a trumpet choir manned by some of the best jazz and studio musicians in Hollywood: Mannie Klein, Uan Rasey, Pete Candoli, Conrad Gozzo, Joe Triscari, and Shorty Sherock. In 1970, he reprised the approach with Trombones, using a stellar ensemble that included Dick Nash, Joe Howard, Tommy Pederson, Ernie Tack, Kenny Shroyer, Frank Rosolino, Hoyt Bohannon, Herbie Harper, Gil Falco, and Lloyd Ulyate, plus Tommy Tedesco on guitar, Red Mitchell on bass, and Hal Blaine on drums. Despite the solid jazz credentials of most of the players, the two albums stay on the easy listening end of the Space Age Pop spectrum.
In the early days of Disneyland Records, Camarata relied on recording studios rented from other firms in the L.A. area, and he kept pressing Disney to invest in its own studio to reduce costs and provide a consistent quality of recordings. "Why would I want to own a studio," Walt Disney responded to the suggestion of his company's director of recording Tutti Camarata. "I'd rather be a client." After Disney rejected the idea several times, Camarata decided to take action himself. He bought an old auto repair shop on Sunset Boulevard in Hollywood, built and equipped several studios, and, in 1960, opened Sunset Sound Recorders.
Although Disneyland Records was the studio's principle customer at first, it quickly became known, along with Gold Star, as one of the best independent studios in Hollywood. Soon a wide range of artists began to pass through the space. Sunset Sound was an early adopter of the more sophisticated mixing technology used as rock shifted its focus from singles to albums, and some of rock's biggest names, including the Rolling Stones, the Beach Boys, Prince, and Van Halen, became regular customers.
As Sunset's success increased, Camarata found it increasingly difficult to juggle its demands with those of Disney, and in 1972, he decided to leave Disney to concentrate on his own company. He continued to arrange and conduct accompanying groups as part of his work at Sunset Sound, but his energies returned to his earliest interest, classical music.
One of his last creative endeavors was the orchestration of a number of the most popular numbers from the Church of Latter Day Saints' hymnal. Camarata then traveled to London, where he recruited and conducted an ensemble including a 100-piece orchestra, a choir of 180 adults, a children's choir, a pipe organ, and a brass section for the resulting recording, The Power and the Glory. "This is the most important album I have ever done," he said of the work when it was completed.
Camarata continued to work on classical recordings into the mid-1990s. He eventually turned over the control of Sunset Sound to his son, Paul, who still heads the studio today.
---
Recordings
Fiddle Sticks, Decca DL 5461
Music for a Lazy Afternoon, Decca DL 8112
I Want to Be Happy: Music of Vincent Youmans, Everest SDBR 1062
Deep Purple: Music of Peter de Rose, Everest SDBR 1079
Tutti's Trumpets, Disneyland Records WDL 3011
Autumn, Disneyland Records WDL 3021
Winter, Disneyland Records WDL 3026
Summer, Disneyland Records WDL 3027
Spring, Disneyland Records WDL 3032
The Happy Wanderer in Europe, Disneyland Records WDL 3034
In the Still of the Night, Buena Vista BV3322
Tutti's Trombones, Buena Vista BV4048
Think Young, Coliseum D41001
Songs from "Chitty Chitty Bang Bang" and "Oliver!," Disneyland Records DQ1331
Songs from "Doctor Doolittle," Disneyland Records DQ3979
Songs from "The Happiest Millionaire," Disneyland Records DQ4030
---
Search for Records and CDs
New CDs
Used Records and CDs


Search www.gemm.com for old recordings by Tutti Camarata.
---
S p a c e A g e P o p M u s i c
Home · Listener's Guide · The Songs · Who's Who · Liner Notes · Selected Tracks · What's New · Search
© spaceagepop 2015. All rights reserved.