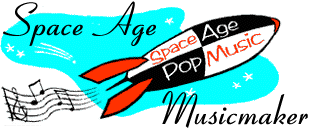 Earl Grant
---
Born 1931, Oklahoma City, Oklahoma
Died 11 June 1970, Lordsburg, New Mexico
Perhaps the most commercially successful organist of the 1960s, Grant plied a more consistently easy-listening path than his label-mates Lenny Dee and Ethel Smith. He studied keyboards at the Kansas City Conservatory, the University of Southern California, and DePaul University. Drafted into the Army during the Korean War, he completed graduate studies at USC after his discharge. Decca Records offered him a contract after spotting him performing at a club in Los Angeles.
His best-selling album featured his rendition of Robert Maxwell's standard, "Ebb Tide", and was reported to have sold over 500,000 copies. He sang as well as played, and most of his later recordings included 2-3 vocal numbers. His voice had a husky, dry tone similar to Nat King Cole's, and rumors persisted throughout his career that he was Cole's brother. He also appeared in several films, including Imitation of Life and Tender is the Night. He died of injuries from an automobile accident on his way back from a performance in Juarez, Mexico.
---
The Versatile Earl Grant, Decca DL 9201
The End, Decca DL 78830
Grant Takes Rhythm, Decca DL 78905
Nothin' But The Blues, Decca DL 78916
Paris Is My Beat, Decca DL 78935
The Magic Of Earl Grant, Decca DL 74044
Ebb Tide, Decca DL 74165
Earl After Dark, Decca DL 74188
Midnight Earl, Decca DL 79201 (Mood Jazz in Hi-Fi series)
Beyond The Reef, Decca DL 74231
Earl Grant At Basin Street East, Decca DL 74299
Midnight Sun, Decca DL 74338
Yes Sirree!, Decca DL 74405
Fly Me To The Moon, Decca DL 74454
Just For A Thrill, Decca DL 74506
Just One More Time, Decca DL 74576
Trade Winds, Decca DL 75623
Spotlight On Earl Grant, Decca DL 74624
Winter Wonderland, Decca DL 74677
Earl Grant Sings And Plays Songs Made Famous By Nat Cole, Decca DL 74729
Stand By Me, Decca DL 74738
Bali Ha'i, Decca DL 74806
The Best Of Earl Grant, MCA 2-4059 two record set
A Closer Walk With Thee, Decca DL 74811
Earl Grant's Greatest Hits, Decca DL 74813
It's So Good, Vocalion VL 3793
Gently Swingin', Decca DL 74937
Spanish Eyes, Decca DL 74974
Earl Grant In Motion, Decca DL 75052
The Best Of Earl Grant Vol. 2, MCA 2-4096 two record set
Send For Me, Vocalion VL 73860
One For My Baby, Vocalion VL 73893
Double Star Series featuring Earl Grant & Lenny Dee, MCA Special Products 734702
Earl Grant's Golden Favorites, Decca DL 75107
This Magic Moment, Decca DL 75108
A Time For Us, Decca DL 75158
Earl Grant: A Brand New Me, Decca DL 75223
The End, Universal Music, International
The Best Of Earl Grant/Singin' and Swingin', MCA Decca MCAD-11838
Organ Fever
---
Search for Records and CDs
New CDs
Used Records and CDs


Search GEMM for old recordings by Earl Grant.
---
S p a c e A g e P o p M u s i c
Home · Listener's Guide · The Songs · Who's Who · Liner Notes · Selected Tracks · What's New · Search
© spaceagepop 2015. All rights reserved.