---
Born 19 April 1921, New York City, New York
---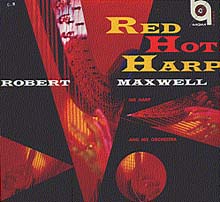 Raised in New York, Maxwell won a scholarship to Juillard in the late 1930s. He performed as a classical harpist with the National Symphony Orchestra and gave recitals in a number of major cities prior to joining the Coast Guard in World War II.
In the Coast Guard, Maxwell played in a touring band led by Rudy Vallee, and Vallee encouraged him to write for the band and gave him featured spotlights in their performances. This whetted his appetite, and after his discharge, Maxwell went into commercial work, performing and arranging for radio and television and appearing in hotels and nightclubs with his own small combo.
Maxwell was an innovator, refusing to accept the conventional view of the harp. For him, it was a percussion instrument. He experimented with different techniques for producing sound from the strings and frame, taking much the same approach as Ferrante and Teicher in their prepared piano works. He lead a small band that played the nightclub circuit in the late 1950s, livening up his stage appearances by wiring his harp into a light display that changed in synchronization with his playing. Maxwell's unique approach to music is suggested by the following note from his Command album, "Anytime!":
Maxwell was not interested in using his harp in just "any" orchestral setting. He knew precisely what he wanted. He wanted to build the ensemble around an accordion quartet--three accordions and a bass accordion--combined with guitars, in order to get a very hard, driving rhythmic sound.
Maxwell recorded occasionally under the name of "Mickey Mozart," and as such, scored a Top40 hit in 1959 with a number titled, "Little Dipper." Maxwell also composed a number of songs and instrumental pieces, including the exotica standard, "Ebb Tide," and "Shangri-La," which gave him a Top 40 hit in 1964 after Jackie Gleason began using it on his variety show (18 years after Maxwell first composed it).
Another of Maxwell's pseudonyms is familiar to any fans of "The Ernie Kovacs Show": The Nairobi Trio. Maxwell wrote "Solfeggio: The Song of the Nairobi Trio," which played along with the recurring bit about the trio of mechanical monkey musicians. Maxwell recorded several LPs for Kapp under the name of the Fortune Tellers that featured the trio lineup (not the monkey one) that performed the piece on the show.
Maxwell had more serious aspirations in music, and in 1961, he composed and conducted a sanctimonious suite entitled, "The Broadcaster," to commemorate the dedication of the unveiling of a statue with the same name in front of a new building for radio station WTIC in Hartford, Connecticut. Maxwell worked in the station's orchestra very early in his career. Unlike his popular pieces, however, "The Broadcaster" featured four sober movements titled, "Dedication," which "opens brightly with trumpets, and then moves into a broad, sweeping melody which reverently captures the spirit of dedication", "Celebration," "Meditation," and "Anticipation." The final movement was not the inspiration for Carly Simon's Heinz ketchup theme, though.
---
Recordings
Harpist's Holiday, Harmony HL 7007
Harp Magic, MGM E-3171
The Lamp is Low, MGM E-3308
Hi-Fi Harp, MGM E-3360
Zing! Went the Strings of My Harp, MGM E-3486
Music to Make You Starry-Eyed, MGM E-3571
Spectacular Harps, MGM E-3636
Red Hot Harp, MGM E-3676
The very best of Robert Maxwell, MGM E-4246
Bewitched also released as "Shangri-La", Decca DL 4421
Peg o' My Heart, Decca DL 4563
A Song for All Seasons also released as "The Magic of Robert Maxwell", Decca DL 4609
Let's Get Away From It All, Decca DL 4723
as The Fortune Tellers, All Star Surprise Party Kapp KS-3282
as The Fortune Tellers, Song of the Nairobi Trio, Kapp KS-7534
Anytime!, Command RS 913 SD
Harpistry in Motion, Command RS 932 SD
A Crowning Performance, Command RSSD 972-2
---
Search for Records and CDs
New CDs
Used Records and CDs


Search GEMM for old recordings by Robert Maxwell.
---
S p a c e A g e P o p M u s i c
Home · Listener's Guide · The Songs · Who's Who · Liner Notes · Selected Tracks · What's New · Search
© spaceagepop 2015. All rights reserved.