---
Born Donald Lester Helfman, October 21, 1926, Somerville, New Jersey
Died 5 July 1984, Weston, Connecticut
---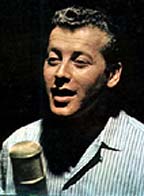 Rated Down Beat's top "miscellaneous instrumentalist" for 8 years straight in the 1950s, Don Elliott provides an excellent example of the uncategorizable nature of much of the music discussed in these pages.
A Jack of all musical trades, he started with the piano at siz, moved on to accordion at eight, picked up baritone and trumpet in high school band, and ultimately added vibes and vocals to this list. He began playing professionally around his home town in New Jersey. (One of his bandmates during these gigs was the young jazz piano legend-to-be Bill Evans).
He took the stage name of Don Elliott while playing in Harry James' band. He studied briefly at Juilliard, then joined the U.S. Army at the tail end of World War II. He took up the E-flat mellophone while playing in an Army band, when he saw that bandmate Chet Baker was getting all the trumpet solos. He figured the mellophone was a unique way to get his share of the solos and not be just another trumpet player.
After leaving the Army, he studied arrangement at the University of Miami and started playing the vibes. He worked the nightclub circuit with the Jan Raye Trio and then joined an act known as "Hi, Lo, Jack, and the Dame" as a singer. He returned to New York City in 1950, working at radio station WMCA, then with George Shearing, Teddy Wilson, Terry Gibbs, Benny Goodman, and Buddy Rich. From 1953 on, he appeared mostly as leader of a variety of groups.
Elliott was the first and probably the most outstanding jazz player of the mellophone, a brass instrument about halfway between a trombone and a French horn. He eventually had Conn make a special version of the instrument with the bell up front for his live performances. He toured and recorded for several labels, never getting much commercial success but benefiting critically from the growing interest in "third-wave" music, which blended classical composition techniques with jazz rhythms and changes. He also worked occasionally as a sideman during this time, on recordings with Paul Desmond and Mundell Lowe, among others.
He was a constant innovator and experimenter. As a vocalist, he could sound as tame as a boy singer from a "sweet" band on one number, then be scatting and bopping a few minutes later, and go on to impersonate Mr. Magoo. He began experimenting with vocal effects in the late 1950s and used multi-tracking, playing with tape speed, and other types of manipulation to achieve a variety of sounds that he then blended into compositions like instruments. On "The Voices of Don Elliott," backed by Phil Moore, he dubbed up to nine separate vocal tracks on each number, creating an ensemble sound as tight as the Hi-Los'.
After as much success as one could expect to achieve as a jazz mellophonist, he moved into composing for cartoons and commercials, becoming one of the most sought-after composers on Madison Avenue and giving radio and TV in the 1960s much of its distinctive sound. And he sealed his place in these pages as the mastermind, along with Sascha Burland, another ad composer, of the Nutty Squirrels, a group that might be described as a train wreck between Alvin and the Chipmunks and the Ray Conniff Singers.
Elliott joined with Burland on a lark and record an album in the guise of a hip group of Chipmunk-like rodents, the Nutty Squirrels. They adapted the technique used by David Seville (nee Ross Bagdasarian to produce the Chipmunk sound--recording normal voices at a slower beat at 16 RPM, then playing them back at 33-1/3 RPM--to the hip scat-singing style Elliott had begun to perfect with his solo work. Backing Elliott and Burland's altered vocals are some of the best New York session men of the late 1950s, including Cannonball Adderley on sax, Bobby Jaspar on flute, and Sam Most on clarinet. Coming on the heels of David Seville's Chipmunks success with his Top 10 single, "The Chipmunk Song," the Nutty Squirrels actually scratched the lower reaches of the Top 20 with a cut off the album, "Uh-Oh Part 2," exactly one year later.
The Nutty Squirrels jumped ahead of the Chipmunks when it came to the medium of television. Format Films was mired in an ambitious ramp-up scheme for an animated series based on the Chipmunks when Transfilm-Wilde, a New York-based company specializing in animated commercials, snapped up the television rights to the Nutty Squirrels characters and songs. By September 1960, the company had 100 five-minute cartoons ready for syndication. This time, the Squirrels were a year ahead of the Chipmunks. Although the cartoons have a streamlined style and jazzy backgrounds, they were a flop commercially. Some stations just scattered the cartoons amongst Woody Woodpecker and other cute animal character cartoons.
Elliott wrote and conducted the incidental music for the 1960 production of A Thurber Carnival, which had a short run on Broadway. He continued to experiment with multiple voice tracks, and provided all the vocal sound effects for Quincy Jones' soundtracks for In the Heat of the Night, $, The Getaway, and The Hot Rock. As many as 20 different versions of Elliott's voice were used to back Roberta Flack on her album, "Smiling." He spent most 1960s and 1970s working primarily as a composer in the advertising business in New York, but he returned to jazz in 1974, recording one last album for Columbia, after he appeared at a tribute to Jones at Carnegie Hall and played with Gerry Mulligan at a club in Connecticut. He also composed and produced the soundtrack of the movie of that long-forgotten 1970s bestseller, The Happy Hooker.
---
The Versatile Don Elliott, Savoy MG-9033
Don Elliott Quintet, RCA Victor LJM-1007
Mellophone, Bethlehem BCP-12
Don Elliott Sings, Bethlehem BCP-15
Voice of Marty Bell, Riverside RLP12-206
Counterpoint for Six Valves, Riverside RLP12-218
Don Elliott with the Bob Corwin Quartet, Riverside RLP12-220
Vib-rations (with Cal Tjader), Savoy MG-12054
Musical Offering, ABC-Paramount ABC-106
Don Elliott at the Modern Jazz Room, ABC-Paramount ABC-142
The Voices of Don Elliott, ABC-Paramount ABC-190
Jamaica Jazz, ABC-Paramount ABC-228
Doubles in Brass, Vanguard VRS-8016
Pal Joey, Hallmark 317
The Mello Sound, Decca DL-79208
with Irma Curry, Love is a Necessary Evil, Columbia CL 1754
Music for the Sensational 60s, Design DLP-69
A Thurber Carnival, Columbia KOS-2024
Rejuvenation, Columbia PC33799
As the Nutty Squirrels

The Nutty Squirrels, Hanover LP
The Nutty Squirrels Go Bird Watching, Columbia CL-1859/CS-8389
The Nutty Squirrels Sing A Hard Day's Night, MGM SE-4272
---
Search for Records and CDs
New CDs
Used Records and CDs


Search GEMM for old recordings by Don Elliott.
---
S p a c e A g e P o p M u s i c
Home · Listener's Guide · The Songs · Who's Who · Liner Notes · Selected Tracks · What's New · Search
© spaceagepop 2015. All rights reserved.