---
Born 21 April 1922, Laurel, Mississippi
---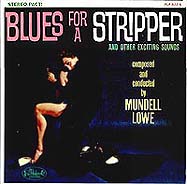 Taught the guitar by his father, Lowe joined Pee Wee King's western swing band in 1939, then moved around a number of big bands before being drafted. After his discharge, he worked with Ray McKinley's band for a couple of years, then switched to working with smaller jazz groups on the New York club circuit. From the early 1950s on, he concentrated on working as a studio musician, except for a brief stint with the mid-50s Sauter-Finegan band. He recorded as a leader of small combos with top-notch players (Ben Webster, Milt Hinton) for RCA's budget label Camden and for Riverside. He also joined with harpist Gene Bianco for a short-lived but excellent light jazz combo, the first to combine harp and electric guitar as leads.
One of Lowe's more significant contributions to jazz was his discovery of the pianist Bill Evans while Evans was attending college at Southeastern Louisiana State. He toured as an accompanist to Peggy Lee in the early 1960s. He also provided the scores for a few films, most notably that classic piece of exotica, Satan in High Heels. In 1969, he joined the staff of KCET, the public television station in Los Angeles, where he produced the series, "Jazz in the Round," which aired on PBS stations nationwide. While with KCET, he composed a second film score, this time for the Tom Laughlin's maverick 70s cult film, Billy Jack. He left KCET in 1973 and worked as a freelance producer and arranger, occasionally touring as a performer or accompanist.
Lowe continues to perform. For more information, check out his website at www.mundelllowe.com.
---
Recordings
Porgy and Bess, RCA Camden CAL-490
TV Action Jazz, RCA Camden CAL-522
Themes from TV Action Shows, RCA Camden CAL-627
Guitar Moods, Riverside 12-208
Alec Wilder Originals, Riverside 12-219
A Grand Night for Swinging, Riverside 12-238
This Could Lead to Love, Riverside 12-808
Satan in High Heels (soundtrack), Parker PLP-406
Billy Jack (soundtrack), Warner Brothers WBS-1781
---
Search for Records and CDs
New CDs
Used Records and CDs

<! -- here GEMM code starts>

Search GEMM for old recordings by Mundell Lowe.
---
S p a c e A g e P o p M u s i c
Home · Listener's Guide · The Songs · Who's Who · Liner Notes · Selected Tracks · What's New · Search
© spaceagepop 2015. All rights reserved.