Born 22 January 1913, New York City
Died 18 June 1993, Putney, Vermont
---

Educated at New York University, Bass worked for Muzak before joining RCA as a staff composer. While with RCA, he recorded a number pre-stereo hi-fi showcase music albums for RCA's budget label, Vik.
From Another World is the best known of these, more for its cover than its contents, though.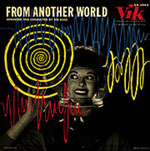 Its cover features a black-and-white photo of an ecstatic spacewoman (complete with glass bubble helmet) looking at a set of orbital/sine wave designs in front of her. It would lead you to believe you're in for a delightful bit of "space travel is FUN!" The music, however, is mostly big band-style arrangements whose only "spacey-ness" is a series of electronic outer space tones that introduce and end each cut.
Bass worked as an A&R man for a small label, Jubilee Records, in the late 1950s, and spent much of the 1960s as a producer for Muzak, pumping out covers of thousands of tunes. He also produced and arranged without credit a number of albums for RCA's budget label, Camden. Percussionist Phil Kraus recalls a lightning-fast session with Bass during which they recorded an entire album--10 cuts--of covers of current rock-n-roll hits in under 90 minutes. Bass popped (credited) again late in the sixties with Moog Espana, adapting a full palette of electronic sounds to Latin standards, much as Marty Gold adapted it to Beatles tunes.
---
Recordings
Bells are Swinging, Vik LP
Blue Bells, Vik LP
Funny Bones, Vik LP
From Another World, Vik LX-1053
Sound and Fury, Vik LX-1084
With Bells On (Tintinnabulation), Vik LX-1112 (rereleased as RCA Camden CAL-501)
Merv Griffin's Dance Party, Carlton STLP 12/134
Moog Espana, RCA Victor LSP-4195
---
Search for Records and CDs
New CDs
Used Records and CDs


Search GEMM for old recordings by Sid Bass.
---
S p a c e A g e P o p M u s i c
Home · Listener's Guide · The Songs · Who's Who · Liner Notes · Selected Tracks · What's New · Search
© spaceagepop 2015. All rights reserved.