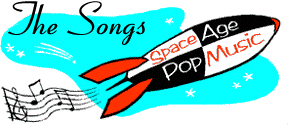 The Latin Number
---
"La Cucaracha"
Traditional Mexican folk song
"La Cucaracha"--The Cockroach--was for many years associated with the stereotype of the Mexican with the wide-brimmed sombrero and colorful serape and hot Latin blood: Speedy Gonzales, in other words. It's among the few Latin numbers to achieve some recognition with American audiences before the first great wave of interest in Latin music in the 1920s (see below). Many Anglo interpretations of Latin music tend to lump a diverse range of cultures--from Mexican folk music to more sophisticated and commercial Cuban songs of the 1920s and 1930s, from Brazilian sambas of the 1930s to bossa nova of the 1960s, from authentic Argentine tangos to synthetic Hollywood Latin numbers like "Carioca." On "From Spain With Love,", the Parrish Mitchell Strings import Cuban numbers ("Habanera") and a Mexican song ("La Virgen de la Macarena") to Spain--"Hey, it all sounds the same, right?" But a few arrangers, such as Percy Faith, took a serious and sincere interest and recognized and respected the differences among these styles and cultures: Faith produced albums of Mexican music ("Viva!") and Cuban music ("Malaguena") that employ instrumentation, rhythms, and songs characteristic of each country.
"The Peanut Vendor" 1931
Music ("El Manisero") by Moises Simon
English lyrics by Marion Sunshine and Wolfe Gilbert
"The Peanut Vendor" was the first great Latin hit in the U.S. The song was popular in Cuba for several years when Herbert Marks, son of sheet music publisher E.B. Marks, heard it and convinced his father to release it with English lyrics by Louis Rittenberg. Cuban band leader Don Azpiazu then recorded it with different lyrics written by his sister-in-law, Marion Sunshine, and Wolfe Gilbert. When Azpiazu debuted his band in New York in 1931, the song and the Latin sound were wildly successful novelties to American audiences. Azpiazu's recording sold over one million copies in under two years, easily making it one of the top sellers of the decade. Hollywood jumped on the bandwagon and put out one of the earliest musicals, "Cuban Love Song," featuring a rendition by that authentic Latin interpreter, the opera singer Lawrence Tibbett. The success of "Peanut Vendor" led a wave of Latin music into America. Within a year of its publication, E.B. Marks listed over 600 Latin songs, and Latin bands were prominently featured in films, radio, and live performances.
"Perfidia" 1941
Music by Alberto Dominguez
English words by Milton Leeds
This Latin war horse was debuted on screen by Gene Autry in a B-movie western called "Stardust on the Sage." Hard to believe it didn't bite the stardust right then and there. Next, Desi Arnaz sang it in an RKO picture called "Father Takes a Wife"--but since the setting called for an operatic rendition, Desi lip-synched while an anonymous tenor sang for him. Xavier Cugat recorded it with singer Miguelito Valdes and picked up his biggest single of his long career. "Perfidia" became a standard Latin number, and remained so through the heighday of exotica.
---
S p a c e A g e P o p M u s i c
Home · Listener's Guide · The Songs · Who's Who · Liner Notes · Selected Tracks · What's New · Search
© spaceagepop 2015. All rights reserved.