---
Born 14 June 1913, London, England
Died 26 November 2002, London, England
---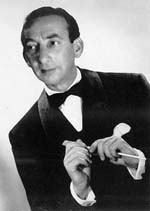 A child prodigy, Black was active on the British music scene for over sixty years. He studied piano and attended the Matthay School of Music in London, and one of his first compositions won a competition sponsored by Melody Maker and was performed by the BBC Orchestra when he was just 12 years old. By the time he was 18, he was a working musician, playing with British dance bands such as Joe Orlando, Howard Jacobs, and Lew Stone. He often played with American jazz musicians such as Benny Carter and Coleman Hawkins during their visits to England, and recorded a duet version of "Honeysuckle Rose" with Hawkins.
Black developed a talent for transcribing music that made him a hot prospect for popular dance band leaders. He could listen to a recording and sit down and transcribe a dozen or more parts by ear, producing a dead-on copy of the original arrangement.
Bandleader Harry Roy hired Black and paired him with Norman Yarlett in a double piano feature act, going so far as to change Yarlett's name so he could bill them as "Black and White." The group toured South America in 1937, and the trip made a profound impression on Black. For the rest of his life, Black enjoyed playing and promoting Latin American music.
Black enlisted in the RAF early in World War Two, but he was discharged after less than a year due to ill health. He returned to Roy's band for a short time, but left to pursue work as an independent conductor and arranger. By 1944, he had become director of the BBC's house dance band, a job he held for nearly eight years. He became a mainstay of British popular music, appearing nearly every day with the BBC band.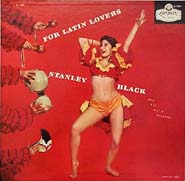 He left the BBC in 1952 to join Decca Records as a staff conductor and arranger, but he remained active with the BBC for the rest of his professional career. He stayed with Decca until 1958, and averaged four albums a year under his own name, in addition to hundreds of uncredited work backing up singers and conducting smaller combos. Many of these albums, including an all-Lecuona album,Cuban Moonlight were released in the US on the London label.
He also worked in the British film industry, arranging and composing soundtracks for nearly 200 films between 1946 and 1975. He served as musical director for the Associated British Pictures Corporation between 1958 and 1963. Among Black's credits are the score for Cliff Richards' British beach movie, "Summer Holiday," which won an award, as well as the theme used throughout the 1960s for Pathe newsreels, a staple of British movie-going experiences. He also composed the theme songs for numerous radio and television shows, most notably for "The Goon Show."
He spent his last working years as a conductor, leading the BBC's Northern Ireland Orchestra in the late 1960s, and appearing frequently at "Pops" concerts. He was an enthusiastic proponent of popularizing music, commenting once that "Serious music shouldn't be pompous. 'West Side Story' should be in the same program as Beethoven." Although most of his own albums feature popular music, his one Grammaphone Award came in 1965 for his recording of Rimsky-Korsakovís Capriccio Espagnol.
Black was highly respected by his fellow musicians for his expertise and efficient working habits, even when deafness set in in his late 60s. He was awarded the Order of the British Empire in 1985. He was also a Life Fellow of the Institute of Arts and Letters, and Life President of the Celebrities Guild of Great Britain.
Exotic Percussion is the album Space Age Pops fans are recommended to seek out. It's an expertly produced recording, typical of London's Phase Four period, featuring an excellent selection of such space age pop standards as "Miserlou" and "Caravan" in loud, brassy, percussion-stuffed arrangements.
---
Recordings
Cash Box Instrumental Hits, London LL158
Plays for Latin Lovers, London LL248
Jerome Kern's Symphonic Suite, London LL579
Berlin Suite, London LL811
Some Enchanted Evening, London LL1098
Dancing in the Dark, London LL1099
Carnival in the Sun, London LL1100
Festival in Costa Rica, London LL1101
Music for Romance, London LL1149
Cuban Moonlight, London LL1166
Music of Richard Rodgers, London LL1209
Plays for Latin Lovers, London LL1248
The Night Was Made for Love, London LL1307
Summer Evening Serenade, London LL1332
The Music of Lecuona, London LL1438
Music of Cole Porter, London LL1565
Red Velvet, London LL1592
Tropical Moonlight, London LL1615
Moonlight Cocktail, London LL1709 (Dec 1957)
Place Pigalle, London LL1742
Sophisticate in Cuba, London LL 1781
The All Time Top Tangos, London PS 176
More Top Tangos, Decca SKL 4812
Gershwin Goes Latin, London PS 206
Rhapsody in Blue, London Phase 4 21009
Spectacular Dances for Orchestra, London Phase 4 SP 21020
Overture!, London Phase 4 21028
Great Rhapsodies, London Phase 4 21030
Exotic Percussion, London Phase 4 SP 44004
Spain, London Phase 4 SP 44016
Film Spectacular, London Phase 4 SP 44025
Film Spectacular Vol.2, London Phase 4 SP 44031
Music of a People, London Phase 4 SP 44060
Broadway Spectacular, London Phase 4 SP 44071
Russia, London Phase 4 SP 44075
Film Spectacular Vol.3, London Phase 4 SP 44078
Broadway Blockbusters, London Phase 4 44088
Dimensions in Sound, London Phase 4 SP 44105
Fiddler on the Roof, London Phase 4 44121
Film Spectacular Vol. 4, London Phase 4 44173
Rhapsody in Blue, London Phase 4 21009
Digital Spectacular!, London LDP 30001
---
Search for Records and CDs
New CDs
Used Records and CDs

<! -- here GEMM code starts>

Search GEMM for old recordings by Stanley Black.
---
S p a c e A g e P o p M u s i c
Home · Listener's Guide · The Songs · Who's Who · Liner Notes · Selected Tracks · What's New · Search
© spaceagepop 2015. All rights reserved.