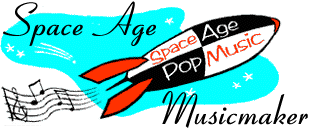 Jerry Murad and the Harmonicats
---
Jerry Murad (Born Jerry Muradian, Turkey; Died 11 May 1996, Liberty Township, Ohio)
Al Fiore (Born Al Fiorentino, 1923; Died 25 October 1996, Chicago, Illinois)
Don Les (Born Dominic Leshinski, 15 November 1914; Died 25 August 1994, Madison, Wisconsin)
---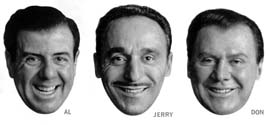 The Harmonicats were a trio of Jerry Murad (lead), Al Fiore (chording) and Don Les (bass). Murad and Fiore left Borrah Minevitch in 1944 to form trio with Les. They were the top-selling of all harmonica groups, with a #1 hit in 1947: "Peg O' My Heart." They benefited from reduced competition: this was during a musician's union strike, and the harmonica was not considered a musical instrument.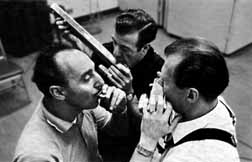 The Harmonicats recorded for Columbia through the mid-1950s, switched to Mercury for a few years, then returned to Columbia until the late 1960s. Although most of their albums featured covers of current hits and space age pop standards, their 1966 album, What New, Harmonicats?, is a rockin' powerhouse, as the trio wails on numbers such as "Blowin' in the Wind" and "Get Off of My Cloud."
Jerry Murad carried on with new versions of the Harmonicats until his death in 1996. He appeared numerous times in pops concerts with orchestras conducted by Richard Hayman. The two former Harmonica Rascals played duets as part of these performances. He also released a number of albums on his own label along with a line of harmonica instruction books.
Recently, Murad's son Michael unearthed a tape of his father leading the group in one of their last tours before their leader's death. Titled, "A Night in San Francisco", a DVD of this 1993 performance can be purchased through the website, www.harmonicats.com.
---
Recordings
Cherry Pink and Apple Blossom White, Columbia CL-1556
Peg o' My Heart, Columbia CL-1637
Sentimental Serenade, Columbia CL-1757/CS8557
Fiesta!, Columbia CL-1863
Forgotten Dreams, Columbia CL-1945
Try a Little Tenderness, Columbia CL-2090
The Love Songs of Tom Jones, Columbia CL-2166
Harmonica Rhapsody, Columbia CL-2341
Harmonicats' Selected Favorites," Mercury MG20074
South American Nights, Mercury MG20107
Command Performance, Mercury MG20122
The Cat's Meow, Mercury MG20136
In the Land of Hi-Fi, Mercury MG 20362
Harmonicha-Cha-Cha, Mercury MG 20391
Selected Favorites, Mercury-Wing MGW-12133
Harmonica Hits, Mercur-Wing MGW-12208
Cats Around The Horn, Mercury-Wing MGW-12216
Dolls, Dolls, Dolls, Mercury-Wing MGW-12242
El Cid & Moon River & other movie music, Columbia CS 8553
Fiesta, Columbia CS 8663
Forgotten Dreams, Columbia CS 8745
The Soul of Italy, Columbia CS 8799
That New Gang of Mine, Columbia CS 9074
What's New, Harmonicats?, Columbia CS 9225
Greatest Hits, Columbia CS 9511
Greatest Hits/Cherry Pink and Apple Blossom White, Collectables CD
Original RKO Masters, Varese Saraband CD
---
Search for Records and CDs
New CDs
Used Records and CDs

<! -- here GEMM code starts>

Search GEMM for old recordings by Jerry Murad.
---
S p a c e A g e P o p M u s i c
Home · Listener's Guide · The Songs · Who's Who · Liner Notes · Selected Tracks · What's New · Search
© spaceagepop 2015. All rights reserved.