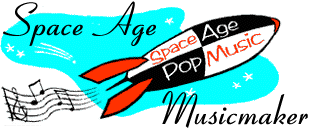 Victor Young
---
Born 8 August 1900, Chicago, Illinois
Died 11 November 1956, Desert Hot Springs, California
---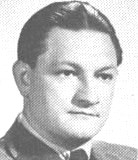 Victor Young was one of the first great original film composers, and had an enormous influence on succeeding generations of film and television composers. Henry Mancini in particular acknowledged that Young's gift for writing memorable memories as part of his scores inspired him to create his own remarkable tunes for films he scored.
Following the death of their mother, Young and his sister were abandoned by their father, a tenor with the Chicago Opera. Just ten years old at the time, he and his sister travelled alone to Poland, where their grandparents lived. Young's grandfather encouraged his musical talent, sending him to the Warsaw Conservatory to study the violin. Young was a prodigy, and by the age of thirteen had performed with the Warsaw Philharmonic. He toured Europe briefly as a soloist, but with the outbreak of World War One, his grandparents chose to send him back to the U.S. for safety.
Young spent the next fifteen years working in both classical and popular settings, mostly in Chicago. He toured as a featured soloist, served as a concert master for theater orchestras, and played with the Ted Fio Rito Orchestra. During this time, he learned to arrange and began writing his own music as well.
He moved to New York City in 1931 and joined the staff of Brunswick Records. He arranged and conducted studio ensembles behind such singers as Don Ameche, Bing Crosby, and Smith Ballew. In 1934, in what was at the time a major industry shake-up, Jack Kapp took over as head of Decca Records, and one of his first moves was to hire Young as musical director. Though he also worked in radio, live performances, and film, Young remained a Decca artist for the rest of his life.
Starting in the late 1920s, Young worked more and more as a songwriter. He had an early hit with "Sweet Sue," published in 1928, and over the next thirty years, would write some of the best melodies of the era: "Stella By Starlight"; "I Don't Stand a Ghost of a Chance"; "My Foolish Heart"; "Street of Dreams"; "When I Fall in Love"; and "Love Letters". Many of these tunes were written for films, which Young began working on in 1933, with Murder at the Vanities. This musical/mystery film, featuring cast of the George white Vanities, earns a spot in the history books for provoking Will Hays to force Hollywood to start censoring itself. Hays found its use of nude dancers, suggested interracial romance, and tunes like "Sweet Marihuana" to much to swallow.
When Al Jolson, whom Young accompanied on radio and records, moved to Los Angeles in 1935, Young went along, part of the first migration of the recording industry from New York to Hollywood. He continued to work in a variety of venues, leading the orchestra at Grauman's Chinese Theater while writing and arranging for Paramount Pictures and remaining active with Decca.
Gradually, though, the movies became his primary focus. His first lead scoring job was on Wells Fargo in 1937, and just two years later, he earned an Oscar nomination for Best Original Score on Golden Boy. He went on to be nominated a record 22 times, and, to its shame, the Academy only rewarded him posthumously, in 1956, for his work on Around the World in 80 Days.
Young was clearly what we would now call a work-aholic, which probably contributed to his early death. Those who worked with him use words like "frenzied," "manic," and "intense" to describe his pace. A short, stocky man who seemed to have the stub of a cigar permanently affixed to the corner of his mouth, "he looked more like a gangster from Chicago than the soulful musician he was," according to songwriter Jack Lawrence. Though married, he was known to be involved with the smoky-voiced singer Lee Wiley. Wiley followed Young to California, and sacrificed opportunities with her own career to stay near Young. (Her 1950 recording of Young's "Street of Dreams" is one of the all-time great jazz vocal recordings).
By the time of his death, Young had worked on over 350 films, including everything from Hopalong Cassady westerns to musicals to to Cecil B. Demille spectacles to "serious" dramas like For Whom the Bell Tolls and The Quiet Man. Because Young was such a workhorse, he was kept constantly busy with jobs and didn't exercise more control over his assignments. In more than a few cases, his music deserves to be remembered long after the film itself should be forgotten. He also worked in television, most notably on the series "Medic," for which his theme became a hit for Les Baxter and others under the title, "Blue Star."
He died of a cerebral hemorrhage while working on the score for China Gate at his home.
---
Recordings
Cinema Rhapsodies, Decca DL8051
Gyspy Magic, Decca DL8052
Hollywood Rhapsodies, Decca DL8060
Night Music, Decca DL8085
April in Paris, Decca DL8243
Imagination, Decca DL8278
Valentino Tangos, Decca DL8279
Pearls on Velvet, Decca DL8285
Love Themes from Hollywood, Decca DL8364
Sugar and Spice, Decca DL8466
Golden Earrings, Decca DL8481
Soft Lights & Sweet Music, Decca DL8789
Forever Young, Decca DL8798
Autumn Roses, MCA 20036

Soundtracks

The Brave One, Decca DL8344
The Loves of Omar Khayam, Decca DL8449
Samson and Delilah, Decca DL8566
The Run of the Arrow, Decca DL8620
Seventh Heaven, Decca DL9001
Around the World in 80 Days, Decca DL9046
For Whom the Bell Tolls, Warner Brothers WB1201

Tribute recordings

Shane: A Tribute to Victor Young, Koch International CD
The Classic Film Music of Victor Young, Marco Polo CD
---
Search for Records and CDs
New CDs from Amazon.com

Used Records and CDs from GEMM.com


Search GEMM for old recordings by Victor Young.
---
S p a c e A g e P o p M u s i c
Home · Listener's Guide · The Songs · Who's Who · Liner Notes · Selected Tracks · What's New · Search
© spaceagepop 2015. All rights reserved.