Born 4 March 1925, Marseilles, France
Died 3 November 2006, Perpignan, France
---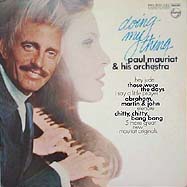 Paul Mauriat's 1968 cover of Andre Popp's "Love is Blue" was the first instrumental to hit #1 on the U.S. Billboard chart since the Tornados hit with "Telstar" in 1962. Mauriat might be considered the last big star of the space age pop era, given his success with "Love is Blue" and its accompanying album, Blooming Hits and his essentially traditional easy listening approach to 1960s pop hits. I find it a little hard to tell Mauriat, Raymond Lefevre, and Franck Pourcel apart: all three led French easy listening orchestras whose recordings were distributed by U.S. labels in the late 1960s and all three worked much the same territory, exemplified by "Love is Blue." I think most listeners would be hard pressed to tell the difference in a blindfold test.
Mauriat grew up in Paris and studied at the Conservatoire. During World War Two, he began leading his own dance band, and after the war, he became involved in the recording industry, working as a house arranger for Pathe and other French labels. His first serious attention came through his assocation with singer/songwriter Charles Aznavour, and he toured the U.S. with Aznavour in the late 1950s. By the early 1960s, he was recording under his own name, arranging and conducting orchestral versions of pop tunes and his own compositions. His 1961 melody (co-written with Franck Pourcel, both under pseudonyms), "Chariot," was imported and adapted into the tune, "I Will Follow Him," which was a Top 10 hit for Little Peggy March in the U.S.
Ironically, "Love is Blue" actually lost out to Lefevre's version of "Puppet on a String," at the 1967 Eurovision Song Contest, but Mauriat's version was heavily marketed by Philips in the U.S. and beat out all contenders. It stayed at #1 for 5 consecutive weeks, a feat no instrumental has equalled since.
The Japanese branch of the Paul Mauriat Club International maintains a website at http://www.pluto.dti.ne.jp/%7Epmclub/.