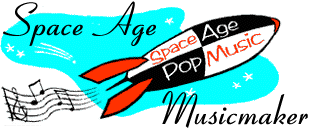 Raymond Lefèvre
---
Born 20 November 1929, Calais, France
Died 27 June 2008, Paris, France
---
Raymond Lefèvre gave Paul Mauriat a run for his money in the easy listening instrumentals biz, as the two kept pushing tunes into the Top 40 charts in the late 1960s. Mauriat grabbed the only #1 instrumental of the period with "Love is Blue," but Lefèvre beat him out in several Eurovision song contests and had several other big hits with "La La La (He Gives Me Love)," "Soul Coaxing," "Puppet on a String," and "A Whiter Shade of Pale."
Lefèvre's easy listening version of Gilbert Becaud's "The Days the Rain Came" briefly hit the U.S. Top 40 list in 1958, but most of the time, Lefevre was focused on French audiences. He arranged and conducted nearly as many albums for the French label, Barclay, as Percy Faith did for Columbia/CBS in the U.S. Unlike Mauriat and Franck Pourcel, Lefèvre stuck for the most part to standard easy listening orchestrations, and Lefèvre was less likely to incorporate rock rhythms or rhythm sections.
Lefèvre also worked on numerous comedy films starring the human spark plug, Louis de Funès as "le gendarme", a buffoonish policeman. A favorite of Japanese listeners, he toured and recorded there numerous time, right up to a year or two before he died.
---
Recordings
Variétés, LP 1971, Barclay 521146 UK
This is Raymond Lefèvre, LP 1971, Riviera SLMP 045
Softly, LP, Riviera RLP 16 001
Hits A Francaise, LP, Riviera RLP 16 006
Raindrops keep fallin' on my head, LP, Riviera RLP 16 007
Soul Coaxing, Kapp FCS 4244
La La La (He Gives Me Love), Kapp FCS 4250
Raymond Lefèvre, LP, Riviera RLP 16 008
Soul Symphonies (Raymond Lefevre & son Grand Orchestre), Riviera RLP 16 027
Yesterday's Hits in Tomorrow's Sound, Riviera RLP 16.031
Soul Symphonies No 2 (Raymond Lefevre et son Grand Orchestre), Riviera RLP 16.04
---
Search for Records and CDs
New CDs
Used Records and CDs


Search GEMM for old recordings by Raymond Lefevre.
---
S p a c e A g e P o p M u s i c
Home · Listener's Guide · The Songs · Who's Who · Liner Notes · Selected Tracks · What's New · Search
© spaceagepop 2015. All rights reserved.