Born Elva Ruby Coones, 5 October 1907, Joplin, Missouri
Died 28 June 1997, San Diego, California
---
Perhaps the best-known oddity of space age pop, Mrs. Elva Miller got her fifteen minutes in the spotlight when Capitol Records released an album of her whistling, quavering, off-key singing as Mrs. Miller's Greatest Hits as a novelty item and found themselves with a minority celebrity on their hands.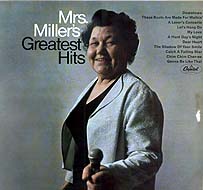 Raised in Kansas, Elva Connes worked as a housekeeper before marrying John Richardson Miller in 1934. The couple moved to Claremont, California, and Miller's husband, an investor, amassed a modest fortune. Mrs. Miller stayed active with numerous charitable activities, but beginning sometime in the early 1960s, she began indulging her interest in singing by hiring studio time and musicians and recording hymns--"Just for the ducks of it," as she told one interviewer.
At one of these sessions, Fred Bock, a keyboard player and composer of choral works, talked her into recording a current hit, Petula Clark's "Downtown." Bock took a tape of it to Lex de Azevedo, an A&R man at Capitol, and de Azevedo latched onto the idea of having Miller record a who album of current rock 'n' roll hits. Bock and de Azevedo brought in some crack session players, including drummer Earl Palmer and bassist Jimmy Bond, and they drilled through eleven numbers while Mrs. Miller warbled, wavered, cracked, gasped, shrilled, and generally sang her heart out. As a Time magazine article described it,
While Elva may not replace Elvis, her rocking-chair rock features a kind of slippin' and slidin' rhythm that is uniquely her own. Her tempos, to put it charitably, are free form; she has an uncanny knack for landing squarely between the beat, producing a new ricochet effect that, if nothing else, defies imitation. Beyond that, her billowy soprano embraces a song with a vibrato that won't quit...
Certainly no one who first bought the album had any idea who Mrs. Miller was or how she'd gone from zero to Greatest Hits in under 60 seconds, but enough people bought it to do better than most comedy albums, selling over 250,000 copies in just three weeks and earning her a spot on "The Ed Sullivan Show." The single of "Downtown" even made it (briefly) onto the Billboard chart.

Bock and Mrs. Miller took the modest fame for all it brought, making a few nightclub appearances in Lake Tahoe and Los Angeles, guesting on most of the current variety and talk shows, appearing in a bit part in a B-movie, "The Cool Ones," rating an article in Life magazine, and even going to Vietnam as part of a U.S.O. show. She never believed, however, that her fame was anything more than a novelty. "I'm not the best musician in the world," she often said.

Capitol quickly followed up with two more albums, but by 1968, the novelty had worn off. Her husband died, and Mrs. Miller had to hook up with tiny (and soon after, bankrupt) label, Amaret, for her last commercial release. She returned to private recording, and appeared for an occasional fundraiser until the mid-1970s.

Thirty years after her fifteen minutes of fame, Mrs. Miller achieved space age pop immortality with her very own Ultra Lounge compilation CD and a cover appearance on Cool and Strange Music magazine.