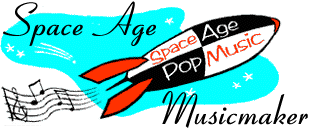 Carmen Cavallaro
---
Born 6 May 1913, New York City, New York
Died October 12, 1989, Columbus, Ohio
---
Known as the "Poet of the Piano," Cavallaro followed the example of Eddy Duchin, whose blend of flashy classically-oriented stylings and popular selections inspired Liberace, Roger Williams, and others. A far better instrumentalist than Duchin, Cavallaro studied and performed as a classical pianist well into his mid-twenties.
Facing a tough job market in serious music, he joined sweet band leader Al Kavelin, who quickly made him the featured soloist. He stayed with Kavelin for four years, then hopped through a series of other sweet and society big bands, including Abe Lyman, Enric Madriguera, and Meyer Davis. In the early 1940s, he began leading his own combos, mostly playing hotel lounges, and picking up a steady run of radio appearances. He formed a large ensemble in 1944, took it to Hollywood, and was hired to perform in a number of musical revue films, starting with "Hollywood Canteen."
After the war, he performed on his own radio show, sponsored by Sheaffer Pens, on Sunday afternoons on NBC. Cavallaro signed a recording contract with Decca around this time and subsequently released a steady string of singles and albums on the label, until it was acquired by MCA in the early 1970s. He had the chance to pay tribute to Duchin's legacy in 1956, when he ghosted the piano work for actor Tyrone Power (and probably played better than Duchin did in the first place).
Cavallaro's work was always professional and tightly arranged (often by Cavallaro himself), but not usually too adventurous or distinctive. Although much of it is standard easy listening fare, some of his 60s stuff is fun, in the vein of other big bands tackling "now sounds."
---
Recordings
Swingin' Easy, Decca DL-4287
The Magic Music of Hollywood, Decca DL-4668
Dancing in the Dark, Decca DL-5007
Serenade: Italian Folk Songs, Decca DL-5090
Music at Midnight, Decca DLP-8115
Dancing in the Dark, Decca DLP-8120
Carnival in Venice, Decca DLP-8241
The Master's Touch, Decca DLP-8288
The Eddy Duchin Story (soundtrack), Decca DL-8289
Guys and Dolls, Decca DLP-8290
Selections from "The King and I," Decca DLP-8305
For Latin Lovers, Decca DLP-8325
Poetry in Ivory, Decca DLP-8326
Rome at Midnight, Decca DLP-8359
At the Embers, Decca DLP-8389
Cocktails with Cavallaro, Decca DL-8805
The Franz Liszt Story, Decca DL-8999
Informally Yours, Decca DL-74017
I Wish You Love, Decca DL-74566
Cavallaro Plays Ellington, Decca DL-74774
Carmen Cavallaro Plays the Hits!, Decca DL-74914
---
Search for Records and CDs
New CDs
---
S p a c e A g e P o p M u s i c
Home · Listener's Guide · The Songs · Who's Who · Liner Notes · What's New · Search
Copyright 2006. All rights reserved.