Born Louis Wertz, 1925, Omaha, Nebraska
---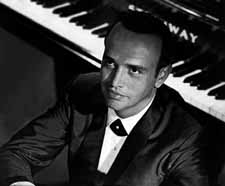 The man who turned tinkling piano runs into a small industry and inspired Richard Clayderman, Ronnie Aldrich, and others to do the same. Williams was a child prodigy, learning to play the piano at the age of three. By high school, he could compose, arrange, and conduct, and play most of the instruments in the band.
He served in the Navy in World War II, then studied at Idaho State, Drake University, and Julliard. In 1952, he appeared on Arthur Godfrey's "Talent Scouts" television show, and began playing in nightclubs and piano lounges in New York. While playing at the Madison Hotel, Williams was discovered by Dave Kapp, president of the newly-formed Kapp Records label. Kapp signed him and gave him the stage name of Roger Williams, after the founder of original Rhode Island colony.
Williams quickly picked up minor hits with his showy intepretations of popular hits, but his real breakthough came with "Autumn Leaves," which stayed in the #1 spot on Billboard's pop chart for a month in late 1955.
Williams went on to record over 100 albums for Kapp and others. He had a number of Top 40 hits over the next 12 years, culminating in a Top 10 hit in his cover of "Born Free" in 1966. Williams still tours and performs 30-40 concerts a year, and in March, 1998, he appeared on a PBS special celbrating his 60th anniversary in show business.
---
Recordings
It's a Big Wide Wonderful World, Kapp KL-1008
Roger Williams, Kapp KL-1012
Till, Kapp KL-1081-S
Plays Beautiful Waltzes, Kapp KL-1062-S
Plays Gershwin, Kapp KL-1088S
Songs of the Fabulous Century, Kapp KX-5005-S
Autumn Leaves 1966, Kapp KS-3452
I'll Remember You, Kapp KS-3470
...and many, many more ....
---
Search for Records and CDs
New CDs
Used Records and CDs


Search GEMM for old recordings by Roger Williams.
---
S p a c e A g e P o p M u s i c
Home · Listener's Guide · The Songs · Who's Who · Liner Notes · Selected Tracks · What's New · Search
© spaceagepop 2015. All rights reserved.