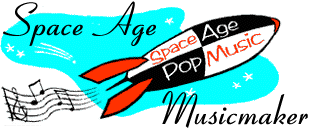 Lucia Pamela
---
Born Lucia Pamela Angelo, 1 May 1904, St. Louis, Missouri
Died 25 July 2002, Los Angeles, California
---
Lucia Pamela took the "space" in space age pop seriously. When her peers were just starting to collect Social Security, she claimed to have built a rocket, toured the Milky Way, and stopped off at the Moon to record her one and only album, Into Outer Space with Lucia Pamela.
And no, she didn't run into Sun Ra on the trip.
As you might expect with someone with an imagination like hers, some biographical facts are tentative at best. She did grow up in St. Louis, and was introduced to music early by her mother, a concert pianist. She undoubtedly received some classical training, but I'm not sure we should believe that the great pianist Paderewski said she would one day become the finest pianist in the world.
Whatever her classical music abilities, it was good old showmanship that took up most of her working life. She won the "Miss St. Louis" beauty contest when she was 22, then spent some years in vaudeville, including a stint with the Ziegfeld Follies. She led an all-girl band, Lucia Pamela and her Musical Pirates, and toured for a while. She claimed the spotlight of their show was her performance on 15 different musical instruments. From the photographic evidence, however, it looks like the accordion was her main axe.
A few years later, she teamed up with her daughter Georgia as a vocal duo, the Pamela Sisters. Georgia went on to some fame of her own, first marrying space age pop accordionist and composer Dominic Frontiere, then later becoming owner of the Los Angeles (now St. Louis) Rams. Lucia also had a son, Ken Irwin, and by the time she died claimed (legitimately) to have 12 grandchildren and 27 great-grandchildren.
What happened over the next couple of decades is unclear. We do know that she lived on the southeast side of Fresno, California, and hosted several local radio shows. She had a hand in running Fresno's local amusement park, Storyland, in the early 1960s, often appearing as the park's host, Mother Goose. She recorded some Christmas songs for the Fresno label LPEG, but was probably best known as the odd but upbeat lady who drove the pink Cadillac.
Sometime in in 1969, she contracted with a tiny Florida record label, Gulfstream, to release a small number of copies of an album of songs and stories she had written and performed. They told the story of Lucia's interplanetary journey, starting with her launch and landing outside Moontown. She finds the Moon full of cows, Indians, and nut people who speak Almond (as any good Fresnan nut person would).
In all likelihood, the tracks were made over a number of years at her expense at some Fresno studio--they have the booming echo and reverb characteristic of great cheap rockabilly recordings. Into Outer Space with Lucia Pamela looked and sounded home-made and the copies quickly disappeared into the great American river of vinyl that circulates from store to home to thrift store and garage sale. Even the free coloring book and the promise of an international contest didn't attract much interest.
A few lucky collectors fished out a copy here and there, however, and we are all fortunate that one of them was DJ and music archivist and historian Irwin Chusid. Chusid featured cuts regularly on his radio show, kept word of mouth interest going, and was eventually able to get another small label, Arf Arf, to release it on CD. This time, however, thanks to the miracle of the Internet, it gained a new generation of fans and became a cult favorite. Lucia lived long enough to see some fruits of this revival, include several tributes--most notably Sterelab's tune, "International Colouring Contest." She moved to Los Angeles late in her life and died in an extended care facility at the age of 98.
You can can find the liner notes and illustrations from the original album and the reissue CD at http://www.pandemic.com/lucia, and you can still download the coloring book. Alas, the contest has, I fear, ended for good.
---
Recording
---
Search for Records and CDs
New CDs from Amazon.com

Used Records and CDs from GEMM.com


Search GEMM for old recordings by Lucia Pamela.
---
S p a c e A g e P o p M u s i c
Home · Listener's Guide · The Songs · Who's Who · Liner Notes · Selected Tracks · What's New · Search
© spaceagepop 2015. All rights reserved.