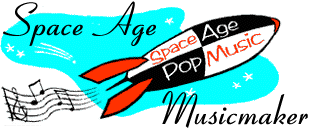 George Melachrino
---
Born George Militiades, 1 May 1908, London, England
Died 18 June 1965, London, England
---
Melachrino's "Moods in Music" series of albums for RCA Victor epitomize one of the most popular and influential movements in space age pop. Indeed, the countless cheapo compilation CDs of "Dinner Music" or "Music for Meditation" that Best Buy places as an obstacle course in front of its checkout counters can be traced back to Music for Dining, Music for Reading, Music to Help You Sleep and other albums by the Melachrino Strings.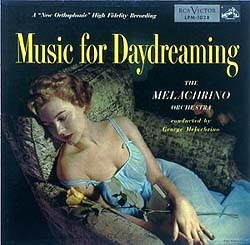 Melachrino vied with Mantovani, also the son of immigrants, to dominate England's--and America's--seemingly bottomless easy listening market. Like Mantovani, he was encouraged into music at a very early age, and began writing his own compositions at the age of five. By the age of 14, he had enrolled in Trinity College of Music (also Mantovani's alma mater) and two years later, was leading his own string group for concerts and tea dances around London.
He spent most of the 1930s playing for popular English bands lead by Ambrose and Bert Firman, and performing on radio for the BBC. He formed his own band in 1939--not the best timing--but folded it a year later to join the British Army. Melachrino gained an enormous amount of experience as a military musician, leading the British Band of the American Expeditionary Forces and the Orchestra in Khaki, serving as musical director for the Army's Radio service, and singing and playing frequently on the BBC and Armed Forces Radio.
After the war, he formed a musical organization that grew to encompass recordings, concert tours, publications, and film scores. Melachrino scored a number of films in the late 1940s and early 1950s, most of them now forgotten with the exception of the British film noir "No Orchids for Miss Blandish." He also scored a popular London music revue, "Starlight Roof," that brought a very young Julie Andrews her first fame.
Melachrino's "Moods" albums are better remembered today for their covers thn their contents. Although Melachrino occasionally ventured beyond the limits of the most conventional easy listening styles--such as on Lisbon at Twilight, for which he enlisted Portugese guitar virtuoso Raoul Nery--these are rare exceptions.
Melachrino died in 1965, but Robert Mandell took over the helm and "The Melachrino Strings" continued to record into the late 1970s.
---
Recordings
Music for Dining, RCA Victor LPM-1000
Music for Relaxation, RCA Victor LPM-1001
Music for Reading, RCA Victor LPM-1002
Music for Courage and Confidence, RCA Victor LPM-1005
Music to Help You Sleep, RCA Victor LPM-1006
Show Tunes, RCA Victor LPM-1008
Music for Two People Alone, RCA Victor LPM-1027
Music for Daydreaming, RCA Victor LPM-1028
Music to Work or Study By, RCA Victor LPM-1029
Music for the Nostalgic Traveler, RCA Victor LPM-1053
Immortal Ladies, RCA Victor LPM-1110
Masquerade, RCA Victor LPM-1184
Sounds of Paris, RCA Victor LPM-1261
Melachrino on Broadway, RCA Victor LPM-1307
I'll Walk Beside You, RCA Victor LPM-1329
Those Beautiful Strings, RCA Victor LPM-1330
Strauss Waltzes, RCA Victor LSP-1757
Lisbon at Twilight, RCA Victor LSP-1762
Rendezvous In Rome, RCA Victor LSP-1955
Music of Romberg, RCA Victor LSP-2106
Music of Victor Herbert, RCA Victor LSP-2129
More Music for Relaxation, RCA Victor LSP-2278
Music of Kern, RCA Victor LSP-2283
More Music for Dining, RCA Victor LSP-2412
Music of Rodgers, RCA Victor LSP-2513
Waltzes of Berlin, RCA Victor LSP-2561
Ballads of Berlin, RCA Victor LSP-2817
You and the Night, RCA Victor LSP-2866
Music for Romance, RCA Victor LSP-2979
New Sound of Broadway, RCA Victor LSP-3323
Something to Remember You By, RCA Victor LSP-3398
---
Search for Records and CDs
New CDs
Used Records and CDs


Search GEMM for old recordings by George Melachrino.
---
S p a c e A g e P o p M u s i c
Home · Listener's Guide · The Songs · Who's Who · Liner Notes · Selected Tracks · What's New · Search
© spaceagepop 2015. All rights reserved.