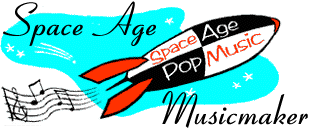 Charles Magnante
---
Born 7 December 1905, New York City, New York
Died December 1986, Westchester, New York
---
Charles Magnante was what you'd call an accordionist's accordionist. Three-time President of the American Accordion Association, Magnante helped raise the accordion from its image as a hokey folk instrument to recognition as a serious instrument capable of a wide range of styles. If it missed that mark in the popular eye and landed just this side of "Lady of Spain" hokeyness, the fault is certainly not Magnante's.
Although he got his start squeezing out (or, as the accordion's sex symbol, Dick Contino, puts it, humping out) "O Sole Mio" in Italian restaurants, Magnante steadily moved away from this stereotypical setting. For much of the 1940s, he was, with Tony Mottola on guitar and George Wright on organ, a fixture of CBS radio, providing the network with its own version of the early Three Suns. Like Mottola, he remained a member of the CBS musical staff for many years while working a steady series of studio sessions on the side. He also worked with musical publishers on instructional books and arrangements of popular and classical tunes for the accordion. More than a few Magnante arrangements are still considered standards for the instrument.
Magnante was certainly one of Enoch Light's favorite accordionists, for he was the only one Light featured as a performer on two of his three labels. Magnante recorded two albums on Grand Award and three on Command. Magnante stayed to conventional material on all of these, preferring to showcase his skills as an interpreter rather than his proficiency on the instrument. But, then, it's no small feat to tackle an airy little bossa nova number like "One Note Samba" on the accordion and not bludgeon it over into "Lady of Spain"-land. The gonifs at MCA, as conductor William Steinberg called them, did Magnante a disservice, then, in titling the double-LP reissue of his Command recordings Accordion Bellicosity. Magnante made art, not war, with his accordion.
---
Recordings
His and Hers, Cook Laboratories 1014
Roman Spectacular, Grand Award GA-205 SD (reissued on ABC-Paramount ABCS-489)
Spanish Spectacular, Grand Award GA 212 SD/33-379
Roman Spectacular, Vol. 2, Grand Award GA 233 SD/33-374
Moods for Moderns, Grand Award GA-245 SD
Polkas, Grand Award GA 249 SD
Percussion Italiano, Grand Award GA 257 SD/33-426
Roman Carnival, Grand Award GA 260 SD/33-429
Roman Accordian, Command RS 852 SD
Fiesta! South of the Border, Command RS 869 SD
Romantic Accordion, Command RS 888 SD
Carnival--In Far Away Places, Command RS 907 SD
Accordion Bellicosity, Command RSSSD0971-2
---
Search for Records and CDs
New CDs
Used Records and CDs

<! -- here GEMM code starts>

Search GEMM for old recordings by Charles Magnante.
---
S p a c e A g e P o p M u s i c
Home · Listener's Guide · The Songs · Who's Who · Liner Notes · Selected Tracks · What's New · Search
© spaceagepop 2015. All rights reserved.