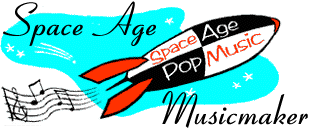 Leroy Holmes
---
Born Alvin Holmes 22 September 1913, Pittsburgh, Pennsylvania
Died 27 July 1986, Los Angeles, California
---
Mainstay arranger and conductor of pop instrumental covers for MGM, and later, United Artists, Holmes' biggest hit was his version of Dmitri Tiomkin's theme to The High and the Mighty, which featured whistler Fred Lowery.
Holmes studied at Northwestern University and Julliard, and then individually with with composer Ernest Toch. He worked for Vincent Lopez for six years, then joined Harry James as James was reaching the height of his popularity in early 1940s. After World War Two, he moved to Hollywood, where he was hired by MGM as a house arranger and conductor.
With MGM, he backed numerous vocalists, including Judy Garland on her hit, "I Cried for You." He switched labels in the early 1960s, joining United Artists, where he contributed to numerous UA compilations of movie themes, backed singers such as Gloria Lynne and Shirley Bassey, and arranged and conducted albums under his own name. Most notable of these were a solid collection of Morricone tunes from spaghetti Westerns, For a Few Dollars More, and several LPs featuring some wonderful soft pop arrangements of movie themes, including the space age pop favorite, "Mah-nah Mah-nah."
---
Recordings
Neapolitan Nights, MGM E225
Snuggled on Your Shoulder, MGM E246
Street of Dreams, MGM E3094
Lush Themes from Motion Pictures, MGM E3172
Candlelight and Wine, MGM E3288
A "Hi-Fi" Salute to the Great Ones, MGM E3554
Take Me in Your Arms, MGM E3378
More Lush Themes from Motion Pictures, MGM E3480
Souvenir d'Italie, MGM E3539
Music for Crazy Mixed-Up People, MGM E3608
Theme Songs of the Great Swing Bands in Hi-Fi, MGM E3708
Sophisticated Strings, MGM E3833
Hawaii with a Bongo Beat, MGM E3874
Spectacular Guitars & Strings: A Fiesta in Sound, MGM SE3919
Lolita and Others, MGM SE4064
Leroy Holmes goes Bossa Nova, United Artists UAS 6242
14 Big Hits, United Artists UAS 6303
50 Fabulous Hawaiian Favorites, United Artists UAS 6353
50 Fabulous Years, Five Decades of Great Music, United Artists UAS 6373
The Good the Bad and the Ugly and Other Motion Picture Themes, United Artists UAS 6633
For A Few Dollars More and Other Motion Picture Themes, United Artists UAS 6608
Cinema '69, United Artists UAS 6669
Once Upon a Time in the West, United Artists UAS 6710
Everybody's Talking, United Artists UAS 6731
Themes from the New Provocative Films, United Artists UAS 6742
A Song of Joy, United Artists UAS 6769
---
Search for Records and CDs
New CDs
Used Records and CDs

<! -- here GEMM code starts>

Search GEMM for old recordings by Leroy Holmes.
---
S p a c e A g e P o p M u s i c
Home · Listener's Guide · The Songs · Who's Who · Liner Notes · Selected Tracks · What's New · Search
© spaceagepop 2015. All rights reserved.