---
Born 24 October 1901, Brooklyn, New York
Died 27 June 1989, New York City, New York
---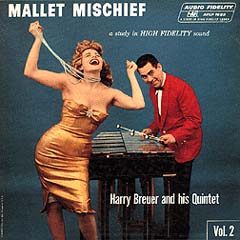 Immortalized on the cover of Re/Search's Incredibly Strange Music, volume 1, Harry Breuer was actually one of the few musicians of the space-age bachelor pad music era to treat percussion music as something more than a gimmick. Breuer switched from violin to xylophone while in high school and became a virtuoso on the instrument at a time when it was still quite a novelty item.
Breuer played with the very first musical stars of radio, the Cliquot Club Eskimos, as well as other society and vaudeville bands. He was a featured soloist on the xylophone in Roxy's Gang, the stage band of the Roxy Theater in New York City and continued to get the spotlight when he moved to the Radio City Music Hall orchestra. He worked for Warner Brothers and Fox movie studios in the late 1930s and early 1940s and even appeared in several short subjects and educational films during this time. He then returned to radio as a staff musician with NBC, where he remained until his retirement in the late 1970s.
Breuer was comfortable both as an entertainer in his live appearances and as a serious musician, publishing practice books and study guides for a wide variety of percussion instruments. He also performed percussion pieces written by such classical composers as Stravinsky and Shostakovich.
In the 1960s and 1970s, he worked in television, commercials, and films--in the latter, he wrote and performed background music for Harold Lloyd's and others' silent comedies, edited for television. When Jacques Perrey came to New York in the early 1960s, Breuer was one of the first musicians he met, and Breuer worked with Perrey on numerous recordings, both as a session performer and a composer. Together, they recorded The Happy Moog for Pickwick, and Perrey credited Breuer for his musical inspiration and help with the business of working in a studio. Breuer continued to explore technology and new musical equipment, working with a Kurzweil synthesizer at the age of 86 on an album titled, Mallets in Wonderland.
---
Recordings
Mallet Magic, Audio Fidelity AFSD 5825
Mallet Mischief, Audio Fidelity AFSD 5882
The Happy Sound of Ragtime, Audio Fidelity AFSD 6258
What This Country Needs, Audio Fidelity AFSD 6265
Per-cus-sive Vaudeville, Audio Fidelity DFM 3001
The Happy Moog, Pickwick SPC-3160
Mallets in Wonderland, Tabby Tone LP
Rock of Ages: A Collection of Favourite Hymns, Festival Records FM-6004
---
Search for Records and CDs
New CDs
Used Records and CDs


Search GEMM for old recordings by Harry Breuer.
---
S p a c e A g e P o p M u s i c
Home · Listener's Guide · The Songs · Who's Who · Liner Notes · Selected Tracks · What's New · Search
© spaceagepop 2015. All rights reserved.