Born 29 March 1918, New York City, New York
Died 20 May 1988, New York City, New York
---
Jacobs is primarily remembered now as an A&R man who helped Jackie Wilson, Buddy Holly, Bobby Darin, and others bridge the gap between pop music and rock-and-roll in the late 1950s and early 1960s, but in between his other work, he created a few items of special interest to space age pop fans.
Jacobs spent most of his life working in the heart of the recording business in New York City. After graduating from New York University, he worked for Bregman, Vocco and Conn, a music publishing company. He served in the Army during World War II, then returned to the city and spent several years working as an arranger for Tommy Dorsey. While working for Dorsey became friends with Sy Oliver, another Dorsey arranger, and the pair eventually decided to form a partnership and pursue freelance arranging. Jacobs and Oliver were able to stay very busy with a steady stream of jobs working with numerous vocalists recording for New York studios. In addition, Jacobs was hired as musical director for the television series, "Your Hit Parade." He cleaned out most of the studio orchestra members and replaced them with his own choices, including such stalwarts as Dick Hyman, Don Lamond, Al Caiola, and Jerome Richardson. One of the first to use an integrated orchestra on television, he made sure the producers didn't try to "shoot around" the black players.
He joined Coral Records in 1953 as a recording manager and produced a number of the label's biggest acts, including the McGuire Sisters and Teresa Brewer. He also recorded under his own name, mostly light instrumentals, and had a minor hit with his cover of the theme from the movie, "Kathy-O." He eventually began to work for Coral's mother label, Decca, and its other main subsidiary, Brunswick, as producer, arranger, musical director, and, less frequently, performer.
Jacobs was one of the first significant members of the mainstream pop music business to take rock seriously, and he helped Jackie Wilson and others achieve cross-over hits that sold well to a variety of audiences. Motown founder Berry Gordy recalls the encouragement Jacobs gave him when he brought Gordy from Detroit to help record one of his songs, "Lonely Teardrops," an early hit for Jackie Wilson. Rock purists may condemn Jacobs for bringing a large orchestral sound to Buddy Holly's solo records, but Holly himself felt it opened up a new range of sounds for him to work with. Although Jacob's back-up arrangements for such Holly hits as "It Doesn't Matter Anymore" weren't that special, it could be argued that they paved the way for Jerry Wexler, Phil Spector, and other seminal rock producers to use a larger orchestra as a basic element of their recordings.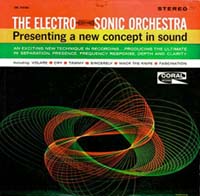 Jacobs became a little more adventurous with his own recordings. He recorded a skiffle album during the three weeks when that rocked-up folk sound emigrated from England and briefly threatened to become the next big thing. He also dabbled in the possibilities of the newer technologies being introduced into the studio, and recorded the one album space age pop fans should look for, The Electro-Sonic Orchestra on Coral. One of the earliest popular recordings to use electronic instruments, The Electro-Sonic Orchestra went beyond the theremin and added the ondioline and modified tape playback effects to spice up a set of pop standards.
By the early 1960s, Jacobs stopped performing and focused on behind-the-scenes work. He was one of Decca's house arranger/conductors, and worked with many of the label's acts during this time. His wonderful "now sound" arrangements for Xavier Cugat's four Decca albums from the mid-1960s deserve a special mention. Collected recently on the Cugie-a-Go-Go CD, Jacobs' arrangements of number ranging from "Music to Watch Girls By" to "The Anniversary Song" are a blissful blend of bossa nova, rock, and Cugat's proven Latin big band sound.
Jacobs left Decca when the label was sucked into the conglomerate, MCA, and produced for Springboard Records until he retired in the late 1970s. He then worked on a reference book on popular songs and songwriters, Who Wrote That Song?, which was updated and reprinted several times until his death in 1988.