---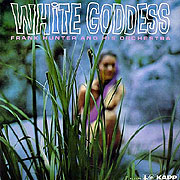 Frank Hunter's White Goddess is one of the incredibly great and incredibly hard-to-find Holy Grail albums that die-hard exotica fans spend years looking for. Marty Manning's Twilight Zone is another. Like Manning, Hunter was an unsung hero of the great days of corporate popular music production, overlooked by musical histories that focus only on the many stars they made sound good. And like Manning, he might have been completely forgotten were it not for the band of exotica fans who discovered one remarkable album that stood out from the rest of his professional works.
Like Manning's Twilight Zone, Hunter's White Goddess combines original compositions and standards, orchestrated and arranged for an unusual combination of instruments. Like Twilight Zone, it incorporates space age pop's favorite odd couple, the Ondioline and wordless vocals, as well as other space age pop regulars like chromatic bongos, Chinese bells, and the buzzimba. It's something of a cross-over between jungle exotica and space music and right up there with the very best in both categories.
Hunter was another big band veteran who switched to the studio, getting his first big break arranging for Elliot Lawrence's Orchestra when it formed in the late 1940s (he was later joined by the young Gerry Mulligan). In the mid-1950s, he worked for Bethlehem Records, where he worked with Frances Faye and others, then moved on to work with a variety of labels and artists, including Mercury, Medallion, and Top Rank and Johnny Hartman, Ketty Lester, Carmen McCrae, Eddie Fisher, and Eddie Heywood. He worked for Kapp for several years, arranging for Roger Williams, Anita Darian, and Joe Harnell. It was during this time that he recorded White Goddess.
He left Kapp and continued to work with diverse mix of acts, from Pat Boone to Chad and Jeremy to the Quinto Sisters. He arranged two of Leo Diamond's later albums on Reprise, and did plenty of work composing music for commercials, some of which is captured on his Sesac album. When CBS started putting out its annual boxed set of orchestral settings of current hits attributed to the "Terry Baxter Orchestra," Hunter was a regular contributor. Unfortunately, after that, his life and works become harder to trace. Perhaps before too many more years, someone will reissue White Goddess and help knit together the loose threads of Frank Hunter's career.
---
Recordings
White Goddess, Kapp KS-3019
with Anita Darian, East of the Sun, Kapp KS-3052
Great Melodies from Motion Pictures, Kapp KS-3099
Music by Frank Hunter, Sesac Recordings PA 203/204
---
Search for Records and CDs
New CDs
---
S p a c e A g e P o p M u s i c
Home · Listener's Guide · The Songs · Who's Who · Liner Notes · Selected Tracks · What's New · Search
© spaceagepop 2015. All rights reserved.