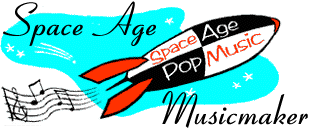 Horst Jankowski
---
Born 30 January 1936, Berlin, Germany
Died 29 June 1998, Bonn, Germany
---
At his best, Horst Jankowski is a strange blend of Ray Conniff's vocal arrangements, Bert Kaempfert's Teutonic hooks, and Esquivel's playfulness. Trained as a classical concert pianist at the Berlin Music Conservatory, Jankowski switched to jazz early on, leading a small combo in German clubs. He conducted the pit band that accompanied singer Caterina Valente, then moved into writing and performing production music for a German version of Muzak. Eventually, his catchy pieces began to attract attention on their own, and Jankowski won a multi-album recording contract. Like Kaempfert, he was a prolific composer of original instrumentals, and his "Schwarzwaldenfahrt", better known as "A Walk in the Black Forest," is as much a sound of the 1960s as Herb Alpert's "Tijuana Taxi." Compare Jankowski's male-female dialogue version of "Nola" with Esquivel's "Mucha Muchacha."
As Herr Jankowski rounded the bend from the sixties to the seventies, he indulged his jazz tendencies more and more (and faded from American airwaves). He released several albums that featured jazzy vocal choral versions of current hits like "Light My Fire," selections of which are featured on the recent compilation, "Black Forest Explosion!" He also recorded with jazz combos including the great German reedman Rolf Kuhns, as well as an album of solo piano pieces (which is recommended only for those who acquired a taste for Horst's unique banging piano style).
For more on Horst Jankowski, check out Phil Kent's tribute webpage at www.horstjankowski.co.uk.
---
Recordings
The Genius of Jankowski, Mercury SR-60993
More Genius of Jankowski, Mercury SR-61054
Still More Genius of Jankowski, Mercury SR-61076
So, What's New?, Mercury SR-61093
Baby, But Grand!, Mercury SR-21106
And We Got Love, Mercury SR-61160
Piano Affairs, SR-61195
Jankowski Plays Jankowski, Mercury SR-61219
Enjoy Jankowski, Mercury/Wing SRW-16385
With Love, Mercury SR-61125
A Walk in the Evergreens, Mercury SR-61232
The Many Moods of Horst Jankowski, Mercury 138 113
Follow me, Intercord 28 503
Jankowskinetik, MPS CRM 732
Jankowskeynotes, MPS CRA 818
Jankowskingize: For Night People Only, MPS CRA 822
For Night People Only, MPS CRA 824
Jankowskyline, MPS CRA 864
Horst Jankowski International, Intercord 28 555 U
Black Forest Explosion!, Motor CD
---
Search for Records and CDs
New CDs
Used Records and CDs


Search GEMM for old recordings by Horst Jankowski.
---
S p a c e A g e P o p M u s i c
Home · Listener's Guide · The Songs · Who's Who · Liner Notes · Selected Tracks · What's New · Search
© spaceagepop 2015. All rights reserved.