Born February 13, 1928, New York City
---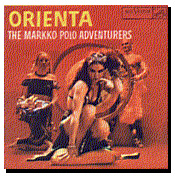 Although Gerald Fried has had a varied and productive career as a classical performer and as a composer in motion picture and television, for space age pop fans, he will best be remembered as the creative force behind one of its classics, "Orienta," playfully credited to "The Markko Polo Adventurers."
Fried attended Juilliard in New York City and played as first oboist with the Dallas Symphony Orchestra for seven years after his graduation in 1948. In 1955, he moved to Los Angeles and became active in the studios, composing and arranging for a variety of shows. Soon after this move, he composed and arranged a set of original numbers with exotica themes and recorded them as "Orienta" for RCA. "Orienta" may be the best Middle Eastern-influenced space age pop recording, blending musical themes that date back to Ketelbey with hi-fi effects such as sirens and dropped ball bearings and a range of exotic percussion. Ironically, Fried really intended the album to be something of a satire on the then-current craze for musical harem-haunting.
He worked on numerous television series, including "Star Trek" and "The Man from U.N.C.L.E.," where he shared scoring duty with Robert Drasnin after Lalo Schifrin moved on to other things.
Fried recalled adapting to the different styles of each show:
"Man From U.N.C.L.E. was easy--the style was tongue in cheek. You knew they were going to get out of every jam--they didn't try to make any profound points, like "Star Trek" tried and, I think, succeeded. They were just having a nice romp, and it was more sophisticated than anything that came before, and the job of the music was to let the good times roll, like a James Bond movie. ... But on "Star Trek" these fellow were saving the world each week by showing a problem on another world.. And it was assumed that we would try to get into the philosophical center of these problems.
Fried's most renown achievement was his collaboration with Quincy Jones on the Emmy-winning score for the mini-series, "Roots." He scored a wide range of films, starting with Stanley Kubrick's early works, Killer's Kiss and Paths of Glory, through John Schlesinger's controversial film, The Killing of Sister George, to such forgettable made-for-TV fare as The Castaways of Gilligan's Island and The Harlem Globetrotters on Gilligan's Island.