---
Born 15 June 1910, London, England
Died 23 August 1990, Burbank, California
---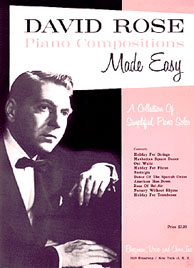 David Rose was responsible for two numbers that embody the two moral poles of exotica: "Holiday for Strings" and "The Stripper." Rose's parents emigrated to Chicago when he was a child, and he studied at the Chicago College of Music. After starting as an arranger for NBC Radio in Chicago, he moved to Hollywood in 1928 and led the orchestra for the Mutual Broadcasting network. Mutual is supposed to have forced Rose to cut his orchestra back to just a string section to save costs, leading him to focus on writing for strings. The climax of this period was his 1944 hit, "Holiday for Strings," or as we all know and love it, "that shopping song." "Holiday for Strings" was also later used as the theme song for the Garry Moore and Red Skelton shows.
Rose joined MGM after the war and worked for the studio in television, film, and recordings. He orchestrated much of the first few seasons of "Bonanza." He backed a number of MGM's vocalists, including Connie Francis on her hit, "My Happiness," and had several instrumental hits of his own. He cashed in on the calypso craze of 1956-57 with "Calypso Melody," a Top 40 hit. He also released an album of classical pieces done with upbeat rhythm sections, titled "Concert with a Beat." (I would be interested to find out who influenced who among Rose's "Concert with a Beat," Conniff's "Concert in Rhythm" LPs, and 101 Strings' "Back Beat Symphony.")
In 1958, he wrote "The Stripper" for a television show called "Burlesque," starring Dan Dailey. The tape sat for several years until MGM asked Rose to record "Ebb Tide" to cash in on its use in the film, "Sweet Bird of Youth." They looked around the tape library and slapped "The Stripper" on the B-side. Los Angeles DJ Robert Q. Lewis decided one night to play "The Stripper" over and over, no matter what his listeners asked for. Word of this stunt got out and soon other DJs were imitating Lewis, and the exposure won an audience for the record. For a guy who specialized in strings, Rose seemed somehow to be able to reach down and summon up the epitome of the sleazy brass sound of the strip joint. The record sold over two million copies and got a second boost when Noxema made it the theme for a series of shaving cream commercials featuring suggestive voice-overs by a Swedish actress.
Rose also contributed one television's most memorable themes for "Bonanza," and worked on the late 1960s western series, "High Chaparral." Rose won a total of 4 Emmys during the course of his career. He continued to work in television, serving as musical director for the series "Little House on the Prairie" in the late 1970s and early 1980s.
He had a hobby of collecting steam engine boats and trains. Henry Mancini recalled being passed by Rose in one of his tugs as Mancini was sailing his own boat out of Los Angeles harbor. Rose was sitting in the back, sipping a glass of champagne. With a satisfied grin on his face, he yelled over to Mancini, "Hank--aren't you glad you practiced?"
---
Recordings
Something Fresh, Capitol ST-124
Theme from "The Bible," Capitol T2627
Great Waltzes of the Fabulous Century, Kapp K-1100-S
Songs of the Fabulous Thirties, Kapp KX-5004-S
Waltzes in Stereo, Kapp KS-3010
Magic Music Box, MGM E196
Beautiful Music to Love By, MGM E3067
Let's Fall in Love, MGM E3101
Fiddlin' for Fun, MGM E3108
Love Walked In--The Music of George Gershwin, MGM E3123
Holiday for Strings, MGM E3215
Music from Motion Pictures, MGM E3397
Concert with a Beat!, MGM
Secret Songs for Young Lovers (with Andre Previn), MGM E3716
Exodus, MGM SE3950
Spectacular Strings, MGM SE3995
21 Channel Sound, MGM SE4004
The Stripper, MGM SE4062
More, More, More, Music of the Stripper, MGM SE4099
Plays the Theme from the Americanization of Emily, MGM SE-4271
In a Mellow Mood, Masterseal ST-9000
---
Search for Records and CDs
New CDs
Used Records and CDs

<! -- here GEMM code starts>

Search GEMM for old recordings by David Rose.
---
S p a c e A g e P o p M u s i c
Home · Listener's Guide · The Songs · Who's Who · Liner Notes · Selected Tracks · What's New · Search
© spaceagepop 2015. All rights reserved.