Born 9 September 1922, Downey, California
Died 3 December 2000, Westlake Village, California
---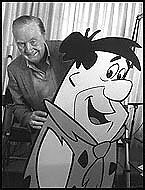 Hoyt Curtin's world-famous theme to "The Flintstones" started as a little musical afterthought buried deep in the score to the first episode. As Jon Burlingame recounts in his book, TV's Biggest Hits, the show's theme through its first season was a bouncy xylophone-rich number called "Rise and Shine."
"And the second year," Curtin told Bainbridge, "we all decided to change it to a more 'caveman' sound. I had all the timpanists in town. It was like Swiss bell ringers, you play this note and you play that." Only in the third season did producer William Hanna write the lyrics, which Curtin then recorded again with a big band and the Randy Van Horne Singers.
Like Vic Mizzy's equally famous theme to "The Addams Family," "Meet the Flintsones" has remained intact even through decades or reruns and several movie versions. It even inspired a musical tribute (of sorts) in the Screaming Blue Messiah's "I Wanna be a Flintstone."
Curtin grew up in San Bernardino, where his father ran an insurance agency and served as the deputy assessor for San Bernardino County. He began taking piano lessons when he was 5 and won a prize for his singing at a local movie house's talent show at the age of 12. He loved music and was working professionally as the leader of a small dance combo before he left junior high school.
After serving in the US Navy during World War Two, Curtin studied music at the University of Southern California on the G.I. Bill. He tried to get work as a composer and arranger for the movie studios, but instead he ended up writing music for television and radio commercials. One of the commercials he composed, for Schiltz beer, was produced by budding cartoon producers William Hanna and Joseph Barbera.
Hanna and Barbera were preparing a show for NBC Saturday morning TV when they cut the Schiltz commercial. Still looking for a theme to "Ruff and Ready," they asked Curtin to provide a melody to go along with the words they'd already written for the theme. "About five minutes later," recalled Curtin, he had a tune ready for them.
Curtin's jazz-influenced no fuss/no bother approach matched up with Hanna and Barbera's way of doing business exceptionally well. Over the next 25 years, Curtin composed most of the themes and much of the incidental music for Hanna/Barbera shows. Usually, it was a very casual relationship. The producers would call of Curtin and describe the new shows they were working on. Curtin would write the songs, hire the musicians, book the orchestra, and conduct the orchestra, provided the final tape to Hanna/Barbera. When Hanna/Barbera was at its peak in the early 1970s, Curtin would single-handedly write and record the scores for at least 13 episodes each of up to 9 series.
The list of Curtin's themes recalls the best and worst of kids' television: "The Jetsons," "Top Cat," "Yogi Bear," "Magilla Gorilla," "Josie and the Pussycats," "Scooby-Doo," "Quick Draw McGraw," "Huckleberry Hound," "Jonny Quest," and "The Smurfs." Although Curtin preferred jazz to rock, he used both styles with ease. Originally writing "The Jetsons" theme for a small combo, he adapted it to a full orchestra at William Hanna's request.
For "Jonny Quest," on the other hand, he put his trombonists to a test. "I wrote it in a killer key because I know how to play trombone and I know the hardest place to play is oall of the unknown, odd positions. There wasn't anything open. Just murder, E-flat minor." The session players, he recalled, "Killed themselves because nobody wanted to make a mistake. Nobody wanted to get carved."
Curtin retired in 1992, and told at least one interviewer, "It feels good not to be doing it anymore." Always interested in gadgets, he invented and successfully licenses a design for an underground lawn sprinkler and turned a bedroom in his house into a synthesizer studio.
One downside of Curtin's "rough and ready" approach is that few original masters exist of his soundtrack recordings. When Rhino Records attempted to put together a tribute to Curtin in 1995, they found that, in many cases, the only available source was the film stock itself. There is no existing master of "The Flintstones" theme, for example.
Curtin's music, however, will long be remembered, despite the lack of pristine source recordings. "His strong suit was coming up with themes that almost anyone on the street could sing at the drop of the hat," said Jean MacCurdy, president of animation at Warner Brothers. Yabba-dabba-do!
---
Recordings
Hanna-Barbera's Pic-a-Nic Basket: Cartoon Classics, Rhino Records boxed set
---
Search for Records and CDs
New CDs
Used Records and CDs


Search GEMM for old recordings by Hoyt Curtin.
---
S p a c e A g e P o p M u s i c
Home · Listener's Guide · The Songs · Who's Who · Liner Notes · Selected Tracks · What's New · Search
© spaceagepop 2015. All rights reserved.