Born 8 August 1914, Greenville, Ohio
Died 21 September 1982, Los Angeles, California
---
A reliable craftsman on the Hollywood studio system production line, Pete King arranged and conducted--with and without credit--countless albums in the 1950s and 1960s. He may not have been a household name, but he was highly respected among his peers, elected president of the National Academy of Recording Arts and Sciences in 1967.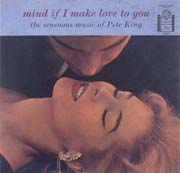 King studied music at the Cincinnati Conservatory and the University of Michigan, and worked in radio on "The Fred Allen Show" and others. He moved to Los Angeles after World War Two and began working with Jackie Gleason, Bing Crosby, and others.
King was one of those professionals who could be counted on for predictable results, and so his name shows up all over the place: as the leader on albums for Dot, Kapp, Liberty, and Warner Brothers, and as arranger on albums by Billy Vaughn, Lawrence Welk, The Castaway Strings, The Ray Bloch Singers, and many, many more.
He was nominated for a Grammy a remarkble five years in a row, starting in 1960, for his Pete King Chorale album, My Favorite Things, and ending in 1964, for the second of two albums he arranged for Jack Jones. He worked with some of the period's best singers, including Julie London, Kay Starr, Dean Martin, Doris Day, and Bing Crosby.
He also worked in film occasionally, scoring the Jerry Lewis comedy "The Family Jewels" and the spy spoof, "The Last of the Secret Agents." He also provided orchestrations for several movies, starting with "April Love" and "An Affair to Remember" in 1957, and concluding with the film version of "Camelot" in 1967. His career came to a sad end when a stroke left him deaf and he was forced to quit the music business.