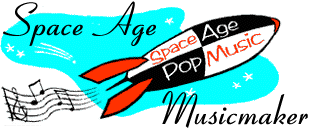 Jonah Jones
---
Born Robert Elliott Jones, 31 December 1908, Louisville, Kentucky
Died 30 April 2000, New York City, New York
---
A jazz veteran whose ebullient nature, muted trumpet style, and scat singing style brought him steady commercial success in a series of albums for Capitol and Decca from the mid-1950s through the end of the 60s. And a few album covers featuring women in tight pants and even tighter sweaters didn't hurt.
Jones began playing professionally in his teens, starting out with bands on the riverboats that still worked the Ohio River in the late 1920s. He joined Jimmie Lunceford's band in 1931 and Lunceford often brought him up front to do comic vocal numbers with violinist Stuff Smith. He moved through some of the best black bands of the 1930s and 40s--McKinney's Cotton Pickers, Fletcher Henderson, Benny Carter, and then, for an eleven-year stretch, Cab Calloway.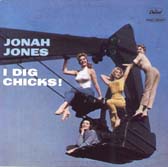 In the early 1950s, he worked with pianist Earl Hines in a small combo. Then, after a stint in the pit orchestra of Porgy and Bess on Broadway, he began playing New York City clubs with a rhythm section. To his surprise, audiences loved the combo, seeing Jones as perhaps a younger version of Louis Armstrong. Capitol signed him to a recording contract, and several of his early albums sold well enough to stake places in the Top 40 lists. His album, I Dig Chicks won a Grammy Award in 1959 for Best Jazz Performance by a group, and his singles of "On the Street Where You Live" and "Baubles, Bangles and Beads" sold over a million copies each.
Capitol dropped him in the mid-1960s when the sales began to fade, but he was picked up by Decca and released several more albums with his quartet, including a Tijuana Brass wannabe album. He continued to perform and recorded occasional mainstream jazz albums through the end of the 1980s. His final performance was in 1993, for a benefit for the Jazz Foundation of America at the famed Blue Note night club in Greenwich Village.
---
Recordings
Two Boys from Dixieland, Aamco ALP-303
Muted Jazz, Capitol T-839
Swingin' on Broadway, Capitol T-963
Swingin' at the Cinema, Capitol ST-1083
Jumpin' with Jonah, Capitol T-1039
Jonah Jumps Again, Capitol T-1115
I Dig Chicks!, Capitol ST-1193
Swingin' 'Round the World, Capitol ST-1237
A Touch of Blue, Capitol ST-1405
Swings "The Unsinkable Molly Brown," Capitol ST-1532
Great Instrumental Hits, Capitol ST-1557
Broadway Swings Again, Capitol ST-1641
Jonah Jones/Glen Gray, Capitol ST-1660
Jazz Bonus, Capitol ST-1773
That Righteous Feelin', Capitol ST-1839
And Now in Person, Capitol ST-1948
Blowin' Up a Storm, Capitol ST-2087
Good Time Medleys, Decca DL-74861
Hello Broadway, Decca DL-74638
On the Sunny Side of the Street, Decca DL-74688
Jazz Tropical, Decca DL-74918
Back on the Street, Chiaroscuro LP
---
Search for Records and CDs
New CDs
Used Records and CDs


Search GEMM for old recordings by Jonah Jones.
---
S p a c e A g e P o p M u s i c
Home · Listener's Guide · The Songs · Who's Who · Liner Notes · Selected Tracks · What's New · Search
© spaceagepop 2015. All rights reserved.