Born 2 December 1918, Los Angeles, California
---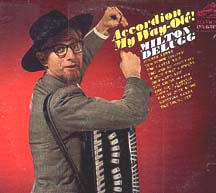 Despite his long and prolific career as a performer, arranger, and composer, Milton Delugg's best-remembered accomplishments will be his score for the cult kiddie movie, Santa Claus Conquers the Martians, which starred a juvenile Pia Zadora, and his bandleading on Chuck Barris' notorious game show, "The Gong Show."
Delugg studied piano, accordion, and composition at Los Angeles City College and with the legendary teacher Tibor Serly in New York City. He worked steadily in radio orchestras and stage bands while in school, and he joined the Matty Malneck Orchestra fulltime in 1938. After serving in the Army Air Corps in World War Two, he became a freelance arranger and conductor, working with songwriters such as Frank Loesser and Morey Amsterdam and singers such as Al Jolson.
He also worked in radio and television on such varied assignments as "The Fred Allen Show" and the Junior Miss beauty pageant, for which he composed the theme. By the early 1960s, he had an excellent reputation in the industry for reliability and dependability. In 1966, when Skitch Henderson left NBC's "Tonight Show with Jack Paar," Delugg took over as bandleader, and recorded an album for RCA with the band. His tenure was short, though, and within a year or so Johnny Carson replace him with the more colorful (but less contentious) Doc Severinsen.
Delugg composed the score for the 1964 B-minus movie, "Santa Claus Conquers the Martians," as well as for the 1966 U.S.-dubbed version of a Japanese animated movie called, "Gulliver's Travels Beyond the Moon." Delugg also composed and conducted incidental music for a series of childrens recordings of tales by the Brothers Grimm produced by RCA and Golden Books around 1966-67.
Somewhere in the haze of the 1970s, "Dating Game" impresario Chuck Barris hired Delugg to appear on stage leading "Milton Delugg and the Band with a Thug" on his "Gong Show" talent contest show. The two had first bumped elbows when Delugg produced Decca's entry into the Herb Alpert and the Tijuana Brass wannabe competition, the Trumpets Ole, and Barris provided an original tune, "Love Sickness" to the album (along with his theme to "The Newlywed Game"). Delugg also contributed the score to the long-forgotten 1980 movie take-off from the "Gong Show." Although he's cut back on his schedule quite a bit, he's still on the go, and can be heard each Thanksgiving as the Musical Director for the Macy's Thanksgiving Day Parade.
Delugg never let his accordion skills grow rusty, and space age pop fans will enjoy his 1967 album, "Accordion My Way--Ole!," which features an effervescent Milton on the cover, sporting an Amish farmer beard and a toreador hat. How can you not have fun looking at a guy like that?