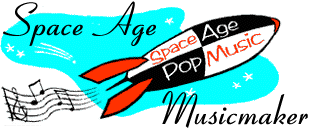 Santo and Johnny
---
Santo Farina--Born 24 Oct 1937
Johnny Farina--Born 30 Apr 1941
Both born in Brooklyn, New York
---
This brother steel guitar (Santo) and acoustic guitar (Johnny) duo made pop history with their timeless instrumental, "Sleep Walk." Taking up the guitar in their early teens, the brothers wrote and recorded "Sleep Walk" for Trinity Records, a local Brooklyn label. After the song got some local play, it was leased to a larger label, Canadian-American, which took it national. In August 1959, the song reached #1 on the Billboard Top 40 list. The brothers continued to record and perform until at least 1964. Mort Garson, later famed for his Moog albums, produced "Sleep Walk" and the brothers' first 6 albums.
To learn more about Santo and Johnny and their biggest hit, "Sleep Walk," check out the Sleep Walk website.
---
Recordings
Santo & Johnny, Canadian American SCALP-1001
Sleep Walk (also released as Encore), Canadian American SCALP-1002
Hawaii, Canadian American SCALP-1004
Come On In, Canadian American SCALP-1006
Around the World, Canadian American SCALP-1008
Offshore, Canadian-American SCALP-1011
In the Still of the Night, Canadian-Americal SCALP-1014
Santo & Johnny Wish You Love, Canadian-American SCALP-1016
The Beatles Greatest Hits Played by Santo & Johnny, SCALP-1017
The Brilliant Guitar Sounds of Santo & Johnny, Imperial LP-12363
Golden Guitars, Imperial LP-12366
On the Road Again, Imperial LP 12418
The Best That Could Happen, Imperial LP-12435
The Original Recordings, Black Tulip 2636424
---
Search for Records and CDs
New CDs
Used Records and CDs

<! -- here GEMM code starts>

Search GEMM for old recordings by Santo and Johnny.
---
S p a c e A g e P o p M u s i c
Home · Listener's Guide · The Songs · Who's Who · Liner Notes · Selected Tracks · What's New · Search
© spaceagepop 2015. All rights reserved.