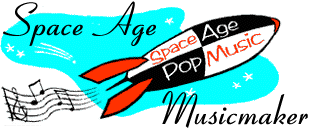 Johnny Ukulele
---
Born John Ka'aihue, 8 November 1901, Kalani, Hawaii
Died November 1971, Hollywood, California
---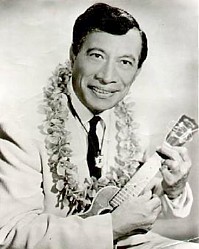 Johnny Ukulele is a perfect example of the way the authentic and the fake get so convoluted in Space Age Pop that purists run for the hills at its approach. Born into an authentic family of Hawaiian nobility (his father was Prince Koeheo Ka'aihue), he left the Big Island in 1916 when legendary surfer Duke Kahanamoku hired him as a member of the band that accompanied the Duke's surfing demonstrations in Atlantic City and other spots on the mainland.
Ka'aihue stayed in the US and spent the next thirty years performing in vaudeville and carnival shows. Hawaiian music was very much a novelty in the mainland, and the ukulele was its signature instrument. Much of the time he worked in the Midwest, including Chicago, where he was reputed to have been a favorite of Al Capone's brother Ralph, who gave him free use of a suite in one of the hotels run by the mob. Like Duke Kahanamoku, Ka'aihue was also an expert swimmer, and when he wasn't playing music, he was appearing and competing against the likes of Johnny Weismuller and Buster Crabbe.
He married a woman from Detroit and settled in St. Louis, Missouri, where for several years he ran a school of Hawaiian music and played in local clubs. During this time he and his wife had a son, Norman, and two years later, a daughter, Mary. Mary and Norman would later become celebrities in their own right as members of the Mary Kaye Trio, a pioneering Vegas lounge act. Show business was quite the family affair for the Ka'aihues. When Mary was just three, her father had her dancing in a grass skirt in a carnival sideshow while her brother strummed a ukulele. By the time the kids were in their teens, they were appearing variously as the Ka'aihue Trio.
Eventually, Ka'aihue joined Harry Owens' haole Hawaiian band, while Mary and Norman formed their own trio with accordionist Biagio Bologna. By the end of 1945, all parties had gone through an Anglicination: Mary and Norman became Kayes; Bologna became Frankie Ross; and Ka'aihue became Johnny Ukulele. He stayed with Owens for almost fifteen years, including nine years with Owens' variety show on CBS television.
Although he can be heard on a number of Owens' Royal Hawaiian Orchestra albums, as well as on some scarcer-than-hens'-teeth 78s from the 1920s and 1930s, his best-known recording is Favorite Selections By Johnny Ukulele on Capitol, from 1958. Ka'aihue was past his peak by that point, but his melodic strumming on "Hawaiian War Chant" still earns him a spot on Rhino's Legends of Ukulele compilation CD.
Ironically, it was not until 1961 that Ka'aihue returned to Hawaii, over fifty years after he left. It was also the first visit for Mary and Norman, who were appearing as the Mary Kaye Trio at the Hawaiian Village Hotel. Duke Kahanamoku was on hand to celebrate the event.
Ka'aihue continued to perform, usually in Las Vegas, where Mary and Norman had become fixtures on the casino club scene, until the late 1960s. Perhaps his last public performance was at the funeral for Cliff "Ukulele Ike" Edwards, where he played "When You Wish Upon a Star," the song Edwards debuted in Disney's Pinocchio.
---
Recordings
Favorite Selections by Johnny Ukulele, Capitol ST-1425
---
Search for Records and CDs
New CDs from Amazon.com