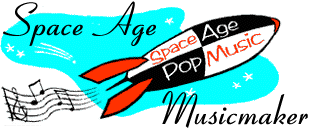 Joe Cain
---
Born Joe Caiani, 31 January 1929, Philadelphia, Pennsylvania
---
Joe Cain's name shows up on quite a few Space Age Pop albums, but his primary contribution to music has been as a producer rather than a performer. Despite the fact that he doesn't speak Spanish, he's been one of the more influential producers of Latin music in America for over 40 years.
Cain moved with his family to the Bronx as a kid, and was inspired to become a trumpet by the example of Harry James. After graduating from high school, he became a professional musician, first going to work in the brass section of Rey Davila's Latin band. He had a knack for Latin music, and his ability to sight-read music enabled him to land jobs with some of the best Latin bands playing in New York City at the time, including Tito Rodriguez's, Marcelino Guerra's, and Charlie Palmieri's. He would often work the first part of the evening in the orchestra of a Broadway show and then head to a club to play with a dance band into the wee hours of the morning.
He also started to arrange and compose for the bands he played with, and sought out Hugo Montenegro for tutoring in the art of arrangement. Cain later acknowledged Montenegro's recommendation not to "over-arrange to compete with the singer" as the best advice he ever received.
In the mid-1950s, he was hired to replace trumpeter Al Stewart in Vicentico Valdes' band, and Cain and Valdes struck up a collaboration that would last until Valdes' death in 1995. Valdes was perhaps the greatest Latin balladeer of the era, and Cain had a talent for writing slow-tempo arrangements that set his voice to best advantage.
By the end of the decade, Cain was able to move from performing to producing. He worked with a variety of labels, both those like Seeco and Tico that specialized in Latin repertoire and mainstream pop lines like MGM. His credits from the early 1960s look like a random sample from a copy of a Schwann LP catalog: covers of Broadway tunes, albums cashing in on dance crazes like the pachanga, work with pop and wanna-be rock singers, instrumental albums under his own name--even an exercise record for Modern Screen magazine. His best album is probably Latin Explosion, a Latin jazz session featuring Jerome Richardson, Clark Terry, and other jazz-cats-turned-studio-pros, which was recently reissued on vinyl.
Gradually, though, he was able to weed out the fluff and concentrate on Latin music. By the early 1970s, he was working almost exclusively for Morris Levy's Tico label, and he convinced Levy to revive the Alegre Records label to showcase artists like Eddie Palmieri, who were pioneering what would become the great salsa movement of the 1970s. Cain was instrumental in producing some of the best Latin recordings of the period, and would have continued to do so had not Levy sold the label to a competitor, who quickly deactivated it again.
Since then, Cain's juggled A&R, production, management, and other musical jobs--still focusing on Latin music, but also leading the Red Parrot Orchestra, a New York-based swing revival big band.
---
Recordings
Irving Berlin Goes Latin, Bronjo BR1210
Latin Explosion, Time S-2123
Great Hits of the 60s, Time S/2148
Motion Picture Themes, Time S/2169
Music from "The Singing Nun," Metromedia S569
Music onModern Screen's Hollywood Method: How to Beautify Your Body and Reduce Your Weight through Exercises Set to Music, RCA Camden CAL581
---
Search for Records and CDs
New CDs from Amazon.com

Used Records and CDs from GEMM.com


Search GEMM for old recordings by Joe Cain.
---
S p a c e A g e P o p M u s i c
Home · Listener's Guide · The Songs · Who's Who · Liner Notes · Selected Tracks · What's New · Search
© spaceagepop 2015. All rights reserved.