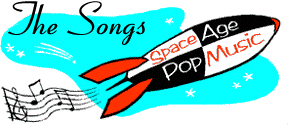 The Rhythm and Blues Song
---
"Harlem Nocturne" 1940
Music by Earle Hagen
Hagen wrote "Harlem Nocturne" for a radio series as a conscious imitation of the Duke Ellington sound. Randy Brooks, a white big band leader, picked it up as his theme song in 1941. About ten years later, saxophonist Herbie Fields, released it as a single, soon after, virtually every sax player in the R &amp B business had his own version of it out.
Sax-heavy honky-tonk R &amp B was beginning to fade at the time, but the smooth, sultry sound of "Harlem Nocturne" made it a good transition into the more sophisticated jump bands. Johnny Otis, a white vibe player who considered himself "black in soul" covered it for one of his early hits on Savoy. (Otis was later to keep the spirit of R &amp B going for many years with his various bands and LA radio shows).
Finally, in 1959, a New Jersey band, the Viscounts, had a minor hit with it, introducing an eerie guitar effect that's been retained in most of the subsequent covers.
"Night Train" 1952
Music by Jimmy Forrest, Oscar Washington, and Lewis Simpkins, taken from a passage in Duke Ellington's "Happy-Go-Lucky Local"
"Night Train" has one of the simplest and strongest hooks in all pop music. All a band needs to do is to get the rhythm section going and just make sure the soloist doesn't blow it. At the height of the honky-tonk sax rage, Jimmy Forrest stole a riff from Duke Ellington and scored a top R & B hit. Buddy Morrow covered it around 1956 and scored a pop hit, subsequently billing his band's "'Night Train' sound." After Morrow's recording, a lot of white performers did their own covers, including such lame groups as Ray McKinley's resurrection of the Glenn Miller band. Mancini's "Peter Gunn" theme borrows much in approach and basic construction from "Night Train." In 1962, James Brown cut "Night Train" for King Records with his scorching hot band, chanting out the names of cities from Boston to New Orleans.
"Flamingo" 1940
Music by Ted Grouya
Words by Ed Anderson
Although "Flamingo" came from the Broadway musical, "Big Top," it first gained attention as a single by Duke Ellington's band with Herb Jefferies doing the vocals. Tony Martin's cover of "Flamingo," one of the earliest examples of a white artist doing a word-for-word, note-for-note cover of a popular R & B hit, was even more successful. Jefferies left Ellington to make it as a solo artist, but he had better luck in the movies, where he starred in a series of black cowboy movies, a counterpart to white cowboy singer stars like Gene Autry and Roy Rogers. Jefferies recently came back to the limelight and has released a CD of cowboy songs. "Flamingo" was a familiar melody among the R & B; audience, and numerous artists, including Earl Bostic, cut cover singles that sold well.
---
S p a c e A g e P o p M u s i c
Home · Listener's Guide · The Songs · Who's Who · Liner Notes · Selected Tracks · What's New · Search
© spaceagepop 2015. All rights reserved.